| | |
| --- | --- |
| Kabukiza (T˘ky˘) | |
Dates
1 ~ 25 June 2014 (Rokugatsu ďkabuki)
June Grand Kabuki
MatinÚe

Harugasumi Kabuki Z˘shi (Okuni Sanza)

Genpei Nunobiki no Taki
(Sanemori Monogatari)

Genroku Chűshingura
(ďishi Saigo no Ichinichi)

Evening

Yamatogana Ariwara Keizu
(Ranpei Monogurui)

Meigetsu Hachiman Matsuri

Casting

Onoe Kikugor˘, Kataoka Nizaemon, Matsumoto K˘shir˘, Nakamura Kichiemon, Nakamura Tokiz˘, Onoe Kikunosuke, Nakamura Shibajaku, Kataoka Takatar˘, Kataoka Gat˘, Onoe Sh˘roku, Ichikawa Sadanji, Nakamura Kinnosuke, Band˘ Yajűr˘, Ichikawa Danz˘, Nakamura Matagor˘, Nakamura Karoku, Ichikawa Komaz˘, Onoe Sakon

Comments

The son of Onoe Sh˘roku IV receives the name of Onoe Sakon III and makes his debut on stage (hatsubutai).

Sources: Earphone Guide Website or Sh˘chiku Kabuki Official Website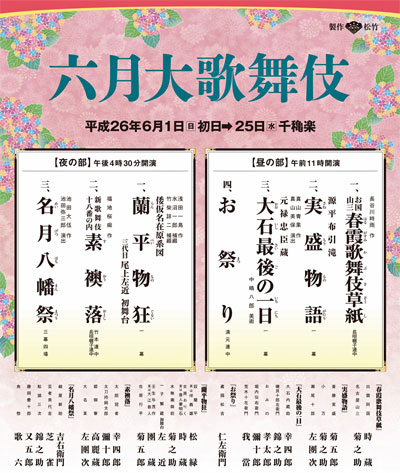 | | |
| --- | --- |
| Hakataza (Fukuoka) | |

Dates
2 ~ 26 June 2014 (Rokugatsu Hakataza ďkabuki)
June Hakataza Grand Kabuki
MatinÚe

Futatsu Ch˘ch˘ Kuruwa Nikki (Sum˘ba)

Evening

Onshű no Kanata-ni

Waki Noboru Mizu-ni Koi Taki (Koi Tsukami)

Casting

Sakata T˘jűr˘, Nakamura Kanjaku, Kataoka Ainosuke, Nakamura Baigyoku, Nakamura Kaishun, Ichikawa Somegor˘, Kamimura Kichiya, Nakamura T˘z˘, Nakamura Kazutar˘, Nakamura Matsue, Arashi Kitsusabur˘, Sawamura S˘nosuke, ďtani Hirotar˘

Comments

The Hakataza, the main theater in Fukuoka, celebrates the 15th anniversary of its opening with 2 Kabuki programs. The troupe is led by Living National Treasure Sakata T˘jűr˘.

Sources: Earphone Guide Website or Sh˘chiku Kabuki Official Website, except "Koi Tsukami"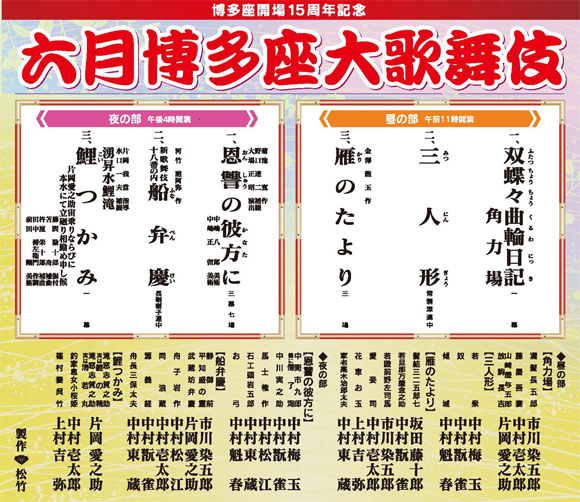 | | |
| --- | --- |
| Shibuya Bunkamura Theatre Cocoon (T˘ky˘) | |

Dates
6 ~ 28 June 2014
Program
Casting

Nakamura Kankur˘, Nakamura Shichinosuke, Onoe Matsuya, Kataoka Kamez˘, Band˘ Shingo, Nakamura Tsurumatsu, Sasano Takashi, Manako Keiji, ďmori Hiroshi, Oida Yoshi

Comments

14th edition of the original Cocoon Kabuki performance, which recreates the atmosphere of the Edo koshibai and brings the actors closer to the audience. 4 actors are non-Kabuki actors!

Sannin Kichisa:
(Three Thieves Named Kichisa)
The late 19th century playwright Kawatake Mokuami excelled at plays about thieves and this play is considered to be one of his greatest. This month, it is a special version of this Kabuki classic staged by modern theater director Kushida Kazuyoshi with a direction in a new perspective. Three thieves, all with the name Kichisa, meet on a riverbank. Oj˘ Kichisa (Nakamura Shichinosuke) was once a Kabuki onnagata and robs in the guise of a woman. Ob˘ Kichisa (Onoe Matsuya) is a handsome young man while Osh˘ Kichisa (Nakamura Kankur˘) has more weight and stature as the head of a derelict temple. Though they start out as rivals, they decide to become blood brothers and form a gang. The three are bound by fate in many ways, with the crimes of one leading to hardship of the family of another. But the same sins and crimes also lead to rescue and salvation. The play combines dark drama with the most beautiful of poetry. In the famous scene on a riverbank Oj˘ Kichisa kills a young prostitute and then speaks in the playwrightĺs famous rhythmical speech of the moon on a hazy night and the gold coins that have fallen into his hands. Soon, these gold coins will link together the three thieves named Kichisa, and in turn, draw these three into a larger drama of crime and retribution. The play combines the playwright Kawatake Mokuami's gritty depiction of the lowest levels of society with intoxicatingly beautiful music and poetry to bring life to his vision of the cycles of sin and retribution.

Source: Earphone Guide website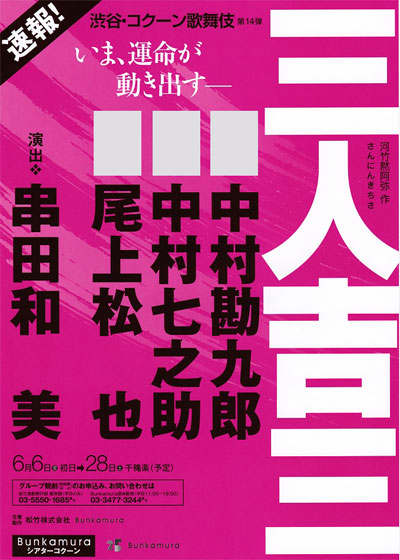 | | |
| --- | --- |
| National Theatre (T˘ky˘) | |
Dates
2 ~ 24 June 2014 (Rokugatsu Kabuki Kansh˘ Ky˘shitsu)
June Kabuki Appreciation Class
Program
Casting

Nakamura Hashinosuke, Nakamura Senjaku, Band˘ Kamesabur˘, Nakamura Kotar˘, Nakamura Toranosuke, Nakamura Kunio

Comments

Educational program at the National Theatre called Kabuki Kansh˘ Ky˘shitu ("Kabuki appreciation class"). This is a very interesting formula for the beginners because there is lively presentation on stage of Kabuki or some aspects of the art like music, stage tricks or fighting scenes. It is followed by the drama "Jiisan Baasan".

Jiisan Baasan: based on a short story by Mori ďgai, this modern play by Uno Nobuo shows a loving young couple. The samurai Iori travels to Ky˘to with his lord, leaving Run, his beloved wife, behind. While there, he attacks another man in a fight over a sword and is forced into house arrest, separating him from his wife. Many years later, he returns to his home as an old man. There he meets an elderly woman and they do not recognize each other until she sees the one thing that has not changed with age, Iori's peculiar habit of putting his hand to his nose. Starring Nakamura Hashinosuke and Nakamura Senjaku as Iori and Run.

Source: Earphone Guide website
Kabuki Tour in the central provinces
Dates
31 May ~ 27 June 2014 (Sh˘chiku ďkabuki)
Sh˘chiku Grand Kabuki
Program
Casting

Ichikawa Ennosuke, Ichikawa Chűsha, Kataoka Hidetar˘, Band˘ Takesabur˘, Ichikawa Ukon, Ichikawa Emisabur˘, Ichikawa Emiya, Ichikawa Tsukinosuke, Ichikawa En'ya, Ichikawa K˘tar˘, Ichikawa Juen, Ichikawa Enshir˘

Comments

Ichikawa Ennosuke IV and Ichikawa Chűsha IX celebrate their shűmei touring in the central provinces!

Taik˘ Sanbas˘: the sanbas˘ is an auspicious dance based on the ritual play "Okina" in the classical N˘ theater which shows an old man as a symbol of longevity and the energetic sanbas˘ as a symbol of fertility and prosperity. This version is quite different as it is set in the famous Taik˘ki sekai and the main character is the warlord Toyotomi Hideyoshi. It was created by Ichikawa Ennosuke III and premiered in April 1981 at the Meijiza. With Ichikawa Ukon (Ichikawa Emisabur˘ from the 23rd of June) as the kanpaku Hideyoshi. Featuring also Ichikawa Emiya and Ichikawa Emisabur˘ (Ichikawa Emino from the 23rd of June).
K˘j˘: the close relationship between the actors and the audience is shown by these stage announcements, lavish ceremonies to commemorate various important events. In this case, all the stars of the cast assemble to celebrate the shűmei of Ichikawa Ennosuke IV and Ichikawa Chűsha IX.
Ippon Gatana Dohy˘ Iri: this is a modern play by Hasegawa Shin and shows Komagata Mohŕ (Ichikawa Chűsha), a starving, would-be sum˘ wrestler. He encounters a courtesan Otsuta (Ichikawa Ennosuke), who gives him her purse and hair ornaments and makes him promise to become a champion sum˘ wrestler. In turn, she promises to go see him make his ceremonial entry into the ring. But ten years later, Mohŕ has become a gangster instead. Now a powerful fighter, he rescues Otsuta and her family. Ironically, this has become the only way that he can repay her kindness and the shameful form that his entry into the ring has taken.

Sources: Earphone Guide Website or Sh˘chiku Kabuki Official Website, except "Taik˘ Sanbas˘"
| | |
| --- | --- |
| Minamiza (Ky˘to) | |

Dates
5 ~ 12 June 2014 (Band˘ Tamasabur˘ Tokubetsu K˘en)
Band˘ Tamasabur˘ Special Performances
Program

Chifuijin Tanj˘

H˘rai nu Shima

Casting

Band˘ Tamasabur˘, Tamagusuku Seigi, Kawamitsu K˘ta

Comments

Collaboration of the highest quality between the traditional art in Okinawa which prospered uniquely as Ryűkyű Islands and Living National Treasure Band˘ Tamasabur˘. He will share the stage with two young and talented Okinawa Kumi Odori dancers, Tamagusuku Seigi and Kawamitsu K˘ta.

Chifuijin Tanj˘:
(The Birth of the Supreme Female Priest)
a new production of Kumi Odori. Utuchi Tunumuigani, a younger sister of the King of Ryűkyű Sh˘shin, falls in love with Ishichi Satunushi whom she meets by chance. At that time the struggle for power arises between noro, official female priests, and yuta, private fortunetellers, in Yambaru district of Ryűkyű kingdom. And Ishichi is dispatched there. Sh˘shin appoints Utuchi as chifuijin, the top of noro, and plans to unify the kingdom. This dance shows Utuchi's fate with her lover and the historical moment when she becomes chifuijin lead by her loyalty to her brother.
H˘rai nu Shima:
(H˘rai Island)
This is an original dance getting its material from the Niraikanai legend which is passed on from ancient days in Ryűkyű, composed and directed by Living National Treasure Band˘ Tamasabur˘. Niraikanai is a kind of utopia and regarded as the origin of life and everything. People believed that it is where the soul of human beings comes from and goes back to. The god of Niraikanai is performed by Living National Treasure Band˘ Tamasabur˘ and a variety of Ryűkyűan classic dances by dancers from Okinawa are shown one after another according to the proceeding of the story.

Sources: Earphone Guide Website or Sh˘chiku Kabuki Official Website

Dates
15 ~ 21 June 2014 (Band˘ Tamasabur˘ Tokubetsu K˘en)
Band˘ Tamasabur˘ Special Performances
Program

Kosunoto

Kurokami

Kane-ga-Misaki

Casting
Comments

Three traditional Jiutamai dances by a Living National Treasure Band˘ Tamasabur˘ which show his attractive elegance.

Kosunoto:
(Reed Screen)
A masterpiece of tsuyamono (love story) which sings about the sentiment of love. It begins with description of a woman's heart toward a man she loves and her attachment is described gracefully with the sound of wind blowing through the pine trees, the cry of little cuckoos and the moon in the background which remind us of summer night.
Kurokami:
(Black hair)
A woman's heart lamenting the painfulness and loneliness of sleeping alone is expressed with deep feeling. It is impressive that a woman's feeling of love and jealousy is skillfully expressed from the contrast of black hair, the symbol for the beauty of Japanese women, and white snow, as the words say.
Kane-ga-Misaki: Band˘ Tamasabur˘ appears as a beautiful young girl, expressing her love and feelings of jealousy. This is the same story as the colorful "Musume D˘j˘ji" dance, but is performed in a restrained chamber style.

Sources: Earphone Guide Website or Sh˘chiku Kabuki Official Website