| | |
| --- | --- |
| Minamiza (Ky˘to) | |

Dates
30 November ~ 26 December 2011 (Kichirei Kaomise K˘gy˘)
Annual Festive Face-Showing Performances
MatinÚe

Oedo Miyage

Yowa Nasake Ukina no Yokogushi (Kirare Yosa)

Evening

Genpei Nunobiki no Taki
(Sanemori Monogatari)

Genroku Chűshingura
(Sengoku Yashiki)

Rokkasen Sugata no Irodori (Kisen)

Rakuda

Casting

Sakata T˘jűr˘, Kataoka Nizaemon, Onoe Kikugor˘, Nakamura Tokiz˘, Band˘ Mitsugor˘, Nakamura Kanjaku, Kataoka Gat˘, Kataoka Hidetar˘, Kataoka Takatar˘, Kataoka Ainosuke, Ichikawa Danz˘, Ichikawa Sadanji, Ichikawa Omez˘, Kawarasaki Gonjűr˘, Band˘ Takesabur˘, Ichikawa Unosuke, Ichimura Kakitsu, Band˘ Shűch˘, Kamimura Kichiya, Nakamura Kikaku, Kataoka Shinnosuke, Nakamura Kazutar˘, Nakamura Baishi, Nakamura Mantar˘

Comments

This December kaomise performances celebrate the 20th anniversary of the refurbishment of the Minamiza.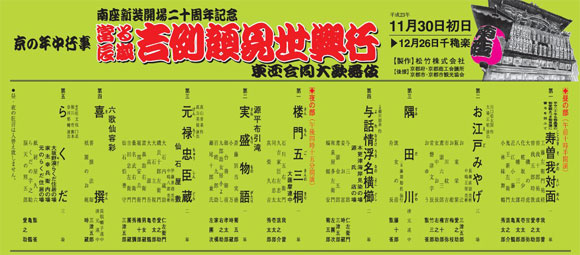 Heisei Nakamuraza (T˘ky˘)
Dates
2 ~ 26 December 2011 (Jűnigatsu ďkabuki)
December Grand Kabuki
MatinÚe

Evening

Ashiya D˘man ďuchi Kagami (Kuzu-no-Ha)

Tsumoru Koi Yuki no Seki no To

Casting

Nakamura Kanzabur˘, Nakamura Senjaku, Onoe Kikunosuke, , Band˘ Yajűr˘, Kataoka Kamez˘, Nakamura Kantar˘, Nakamura Shichinosuke, Onoe Matsuya, Band˘ Shingo, Nakamura Toranosuke

Comments

The Heisei Nakamuraza is back in T˘ky˘ in the popular district of Asakusa. This time, it is a 7-month project (performances up to May 2012!) for this temporary theater built within the Sumida Park.
| | |
| --- | --- |
| National Theatre (T˘ky˘) | |
| | |
| --- | --- |
| Dates | 3 ~ 26 December 2011 |
| Program | |
| Casting | Nakamura Kichiemon, Nakamura Baigyoku, Nakamura Kaishun, Nakamura Shibajaku, Nakamura Kinnosuke, Nakamura T˘z˘, Nakamura Matagor˘, Nakamura Karoku, Nakamura Kash˘, Nakamura Utae, ďtani Keiz˘, Nakamura Matsue, Sawamura Yoshijir˘, Nakamura Tamatar˘, Nakamura Yonekichi, Nakamura Tanenosuke, Nakamura Takanosuke |
| Comments | |
K˘rakukan (Kosaka)
Dates
10 ~ 11 December 2011 (Band˘ Tamasabur˘ Tokubetsu Buy˘ K˘en)
Band˘ Tamasabur˘ Special Dance Performances
Program

Yuki

Aoi no Ue

Kane-ga-Misaki

Casting
Comments

Short Buy˘ performances, starring Band˘ Tamasabur˘ in 3 of his favorite dances. He performs in Kosaka (Akita prefecture) at the K˘rakukan, the oldest operating traditional Kabuki theatre in Japan. These performances should have happened in March 2011, but ...as a consequence of the 2011 Great Eastern Japan Earthquake Disaster, the shows at the K˘rakukan were canceled!
Zenshinza Tour
Dates
1 ~ 15 December 2011
Program

Mizusawa no Ichiya

Casting

Arashi Keishi, Kawarasaki Kunitar˘, Arashi Yoshisabur˘, Yamazaki Tatsusabur˘, Yamazaki Ryűnosuke, Ikushima Kigor˘, Matsunami Kihachir˘

Comments

The Zenshinza troupe is on tour all over Japan. "Mizusawa no Ichiya" is not a Kabuki drama. Only "Kenuki":

Kenuki: in this play, which retains the light, festive atmosphere of early-period Kabuki, a princess has a mysterious ailment that makes her hair stand on end, an ailment that prevents her from carrying out her long-awaited marriage. Kumedera Danj˘ comes from the groom's household to investigate and finds a plot to take over the household when his tweezers float in mid-air. Arashi Keishi stars in a play that features the bombastic aragoto style of acting.

Source: Earphone Guide website