| | |
| --- | --- |
| Minamiza (Ky˘to) | |

Dates
30 November ~ 26 December 2011 (Kichirei Kaomise K˘gy˘)
Annual Festive Face-Showing Performances
MatinÚe

Evening
Casting

Sakata T˘jűr˘, Kataoka Nizaemon, Onoe Kikugor˘, Nakamura Tokiz˘, Band˘ Mitsugor˘, Nakamura Kanjaku, Kataoka Gat˘, Kataoka Hidetar˘, Kataoka Takatar˘, Kataoka Ainosuke, Ichikawa Danz˘, Ichikawa Sadanji, Ichikawa Omez˘, Kawarasaki Gonjűr˘, Band˘ Takesabur˘, Ichikawa Unosuke, Ichimura Kakitsu, Band˘ Shűch˘, Kamimura Kichiya, Nakamura Kikaku, Kataoka Shinnosuke, Nakamura Kazutar˘, Nakamura Baishi, Nakamura Mantar˘

Comments

This December kaomise performances celebrate the 20th anniversary of the refurbishment of the Minamiza.

Source: Earphone Guide website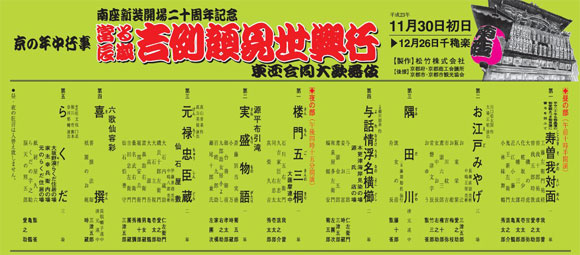 Heisei Nakamuraza (T˘ky˘)
Dates
2 ~ 26 December 2011 (Jűnigatsu ďkabuki)
December Grand Kabuki
MatinÚe

Evening

Ashiya D˘man ďuchi Kagami (Kuzu-no-Ha)

Tsumoru Koi Yuki no Seki no To

Casting

Nakamura Kanzabur˘, Nakamura Senjaku, Onoe Kikunosuke, , Band˘ Yajűr˘, Kataoka Kamez˘, Nakamura Kantar˘, Nakamura Shichinosuke, Onoe Matsuya, Band˘ Shingo, Nakamura Toranosuke

Comments

The Heisei Nakamuraza is back in T˘ky˘ in the popular district of Asakusa. This time, it is a 7-month project (performances up to May 2012!) for this temporary theater built within the Sumida Park.

Source: Earphone Guide website
| | |
| --- | --- |
| National Theatre (T˘ky˘) | |
| | |
| --- | --- |
| Dates | 3 ~ 26 December 2011 |
| Program | |
| Casting | Nakamura Kichiemon, Nakamura Baigyoku, Nakamura Kaishun, Nakamura Shibajaku, Nakamura Kinnosuke, Nakamura T˘z˘, Nakamura Matagor˘, Nakamura Karoku, Nakamura Kash˘, Nakamura Utae, ďtani Keiz˘, Nakamura Matsue, Sawamura Yoshijir˘, Nakamura Tamatar˘, Nakamura Yonekichi, Nakamura Tanenosuke, Nakamura Takanosuke |
| Comments | Source: Earphone Guide website |
K˘rakukan (Kosaka)
Dates
10 ~ 11 December 2011 (Band˘ Tamasabur˘ Tokubetsu Buy˘ K˘en)
Band˘ Tamasabur˘ Special Dance Performances
Program

Yuki

Aoi no Ue

Kane-ga-Misaki

Casting
Comments

Short Buy˘ performances, starring Band˘ Tamasabur˘ in 3 of his favorite dances. He performs in Kosaka (Akita prefecture) at the K˘rakukan, the oldest operating traditional Kabuki theatre in Japan. These performances should have happened in March 2011, but ...as a consequence of the 2011 Great Eastern Japan Earthquake Disaster, the shows at the K˘rakukan were canceled!
Zenshinza Tour
Dates
1 ~ 15 December 2011
Program

Mizusawa no Ichiya

Casting

Arashi Keishi, Kawarasaki Kunitar˘, Arashi Yoshisabur˘, Yamazaki Tatsusabur˘, Yamazaki Ryűnosuke, Ikushima Kigor˘, Matsunami Kihachir˘

Comments

The Zenshinza troupe is on tour all over Japan. "Mizusawa no Ichiya" is not a Kabuki drama. Only "Kenuki":

Kenuki: in this play, which retains the light, festive atmosphere of early-period Kabuki, a princess has a mysterious ailment that makes her hair stand on end, an ailment that prevents her from carrying out her long-awaited marriage. Kumedera Danj˘ comes from the groom's household to investigate and finds a plot to take over the household when his tweezers float in mid-air. Arashi Keishi stars in a play that features the bombastic aragoto style of acting.

Source: Earphone Guide website