| | |
| --- | --- |
| Kabukiza (T˘ky˘) | |
Dates
4 ~ 29 March 2021
Sangatsu ďkabuki
March Grand Kabuki
1st program

Saruwaka Edo no Hatsuyagura

2nd program

Ichi-no-Tani Futaba Gunki (Kumagai Jin'ya)

3rd program A
3rd program B

Yuki

Kane-ga-Misaki

Casting

Living National Treasure Onoe Kikugor˘, Living National Treasure Nakamura Kichiemon, Living National Treasure Band˘ Tamasabur˘, Living National Treasure Kataoka Nizaemon, Living National Treasure Nakamura T˘z˘, Nakamura Tokiz˘, Nakamura Senjaku, Nakamura Kinnosuke, Kataoka Ainosuke, Matsumoto K˘shir˘, Nakamura Kankur˘, Nakamura Shichinosuke, Kataoka Takatar˘, Onoe Sh˘roku, Ichikawa Danz˘, Band˘ Yajűr˘, Nakamura Karoku, Ichikawa Komaz˘, Band˘ Kamez˘, Nakamura Kash˘, Nakamura Tanenosuke, Nakamura Kangyoku

Comments

The March Grand Kabuki at the Kabukiza. The A program is staged the 4th, 5th, 6th, 7th, 8th, 9th, 10th, 12th, 13th, 14th, 17th, 18th, 19th, 23rd, 24th, 25th, 26th and 29th of March 2021. The B program is staged the 15th, 16th, 20th, 21st, 27th and 28th of March 2021. There is no performance the 11th and the 22nd of March 2021.

Sources: Earphone Guide Website or Sh˘chiku Kabuki Official Website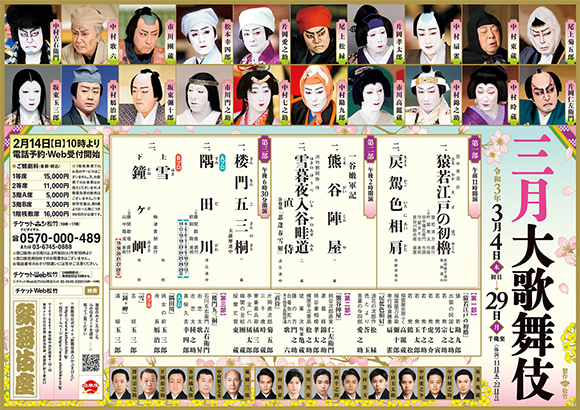 | | |
| --- | --- |
| National Theatre (T˘ky˘) | |
Dates
4 ~ 27 March 2021
Program
Casting

Onoe Kikunosuke, Band˘ Hikosabur˘, Nakamura Baishi, Nakamura Matagor˘, Kataoka Kamez˘, Kawarasaki Gonjűr˘, Nakamura Mantar˘, Band˘ Shingo, Nakamura Takanosuke, Nakamura Kichinoj˘

Comments

This month, the program at the National Theatre is called Kabuki Meisaku Nyűmon (literally 'Introduction to Kabuki Masterpieces'). The drama "Badarai no Mitsuhide" is staged with Onoe Kikunosuke in the role of Takechi Mitsuhide. There is no performance the 10th, the 11th and the 19th of March 2021.

Badarai: based on the true historical story of Akechi Mitsuhide who betrayed his lord Oda Nobunaga and ruled Japan for a few short days before being defeated by Toyotomi Hideyoshi, this play focuses on Mitsuhide and his tortured relationship with the arrogant and unreasonable lord Nobunaga. It is one of the few period plays by Tsuruya Nanboku IV still performed today and brings the same sharp psychological insight and eye for the attractiveness of evil characters that make his ghost plays and plays about commoners so powerful. Featuring Onoe Kikunosuke, Nakamura Baishi, Nakamura Matagor˘ and Band˘ Hikosabur˘ in the roles of Takechi Mitsuhide (because of strict censorship, the real names were not used), Mitsuhide's wife Satsuki, Yasuda Sakubŕ and Oda Harunaga.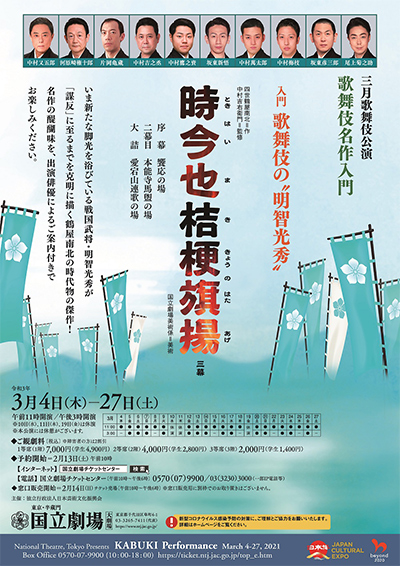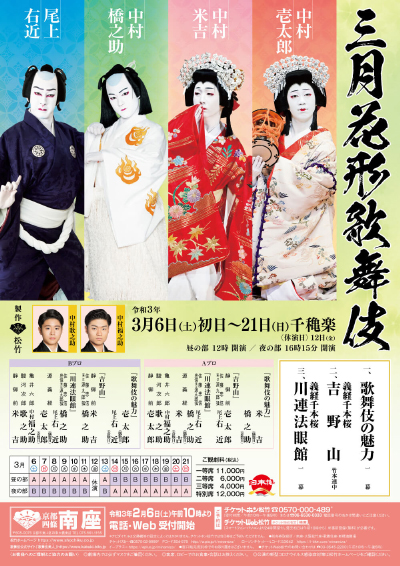 Classics Tour
Dates
5 ~ 24 March 2021
Koten he no Izanai
Invitation to the Classics
Program

Shiraby˘shi no Hana no En

Benten Musume Meo no Shiranami

Casting

Ichikawa Ebiz˘, Ichikawa Udanji, Nakamura Kotar˘, Kataoka Ichiz˘, Ichikawa Omez˘, Ichikawa Kudanji, ďtani Hiromatsu

Comments

A special tour in 14 cities for the heir of the Naritaya guild.

Shiraby˘shi no Hana no En:
(The flowery Banquet of the shiraby˘shi)
In the medieval period there were beautiful dancers called shiraby˘shi who wore male court costume. they were famous for dances called otoko mai or "male dance". In this dance, Nakamura Kotar˘ evokes one of these beauties of ancient Japan.
Benten Musume: this play is a sewamono (realistic play about commoners) written by the late 19th century playwright Mokuami who is famous for his plays about thieves. The thief Benten Koz˘ dresses up as a woman to commit extortion, but his plans are ruined when his disguise is seen through. In the highlight of the play, he undresses, showing his colorful tattoos and introduces himself in a famous poetic speech. Afterwards, he is joined by the members of his gang on a riverbank, and, using the playwright's famous poetic rhythms, in turn, they each boast of their careers as thieves. Ichikawa Ebiz˘ stars as Benten Koz˘, with Ichikawa Omez˘ as Nippon Daemon, Ichikawa Udanji as Nang˘ Rikimaru, Ichikawa Kudanji as Tadanobu Rihei and Nakamura Kotar˘ as Akaboshi Jűzabur˘.

Sources: Earphone Guide Website or Sh˘chiku Kabuki Official Website