| | |
| --- | --- |
| Kabukiza (T˘ky˘) | |
Dates
3 ~ 27 March 2018
Sangatsu ďkabuki
March Grand Kabuki
MatinÚe
Evening

Osome Hisamatsu Ukina no Yomiuri

Taki no Shiraito

Casting

Living National Treasure Band˘ Tamasabur˘, Living National Treasure Kataoka Nizaemon, Living National Treasure Nakamura T˘z˘, Nakamura Shikan, Nakamura Jakuemon, Nakamura Senjaku, Kataoka Ainosuke, Kataoka Hidetar˘, Onoe Sh˘roku, Band˘ Yajűr˘, Kataoka Takatar˘, Nakamura Kazutar˘, Nakamura Kinnosuke, ďtani Tomoemon, Onoe Matsuya, Nakamura Karoku

Comments

The two stars of these March Grand Kabuki performances are the goruden kombi Living National Treasures Band˘ Tamasabur˘ and Kataoka Nizaemon, who perform together in two important scenes from Tsuruya Nanboku IV's masterpiece "Osome Hisamatsu Ukina no Yomiuri" and the dance "Omatsuri". The Kabukiza also commemorates the 6th anniversary (7th memorial service) of the passing away of late Nakamura Jakuemon IV with his son Nakamura Jakuemon performing, along with Onoe Sh˘roku, in the dance "Meoto D˘j˘ji".
| | |
| --- | --- |
| National Theatre (T˘ky˘) | |
Dates
3 ~ 27 March 2018
Program

Z˘ho Chűshingura (Honz˘ Shimoyashiki)

Casting

Nakamura Ganjir˘, Onoe Kikunosuke, Kataoka Kamez˘, Ichikawa Danz˘, Nakamura Baishi, Kawarasaki Gonjűr˘, Ichimura Manjir˘, Ichimura Kitsutar˘, Nakamura Mantar˘

Comments

The usual March Kabuki performances at the National Theatre:

Honz˘ Shimoyashiki: there are few plays more popular than "Chűshingura" or "The Treasury of Loyal Retainers" based on the true story of the revenge of the forty-seven masterless samurai. That original play not only showed the historical events, but the private dramas of the retainers as they prepared for the vendetta. The original play inspired many other plays showing other historical characters associated with the event, or the aspects of the fictional characters not shown in the original. This play features the character Momonoi Wakasanosuke (Nakamura Ganjir˘). Wakasanosuke is reviled as a flatterer after the sword fighting incident caused by Enĺya Hangan on the master of ceremony, K˘ no Moron˘. Wakasanosuke was going to wreak his grudge on Moron˘, but his head retainer Kakogawa Honz˘ (Kataoka Kamez˘) had bribed Moron˘, and he lost the opportunity to do so. Enĺya Hangan was instead teased by Morono and caused the incident. Wakasanosuke visits Honz˘ who incurred his anger and was confined to his house. He raises up his sword to punish Honz˘, but ů Wakasanosukeĺs unexpected behavior, how he thanks Honz˘ for his loyalty and how he regrets his parting Honz˘ Honzo hearing his sister play the Japanese zither are the highlights of this play which is a prolog to the ninth act of the original "Chűshingura" play showing another bond between a lord and his retainer.
Kamiyui Shinza: Shinza is a barber that goes from door to door, but at the same time, he is a villain that kidnaps Okuma, the beautiful daughter of a wealthy household, and even resists the efforts of Yatagor˘ Genshichi, the most prestigious strongman in town, to get her release. Starring Onoe Kikunosuke as Shinza, Nakamura Baishi as Chűshichi, Ichikawa Danz˘ as Yatagor˘ Genshichi and Kataoka Kamez˘ as the landlord Ch˘bŕ.

Sources: Earphone Guide Website or National Theatre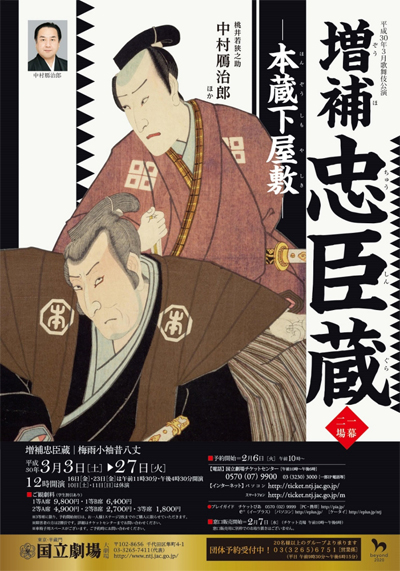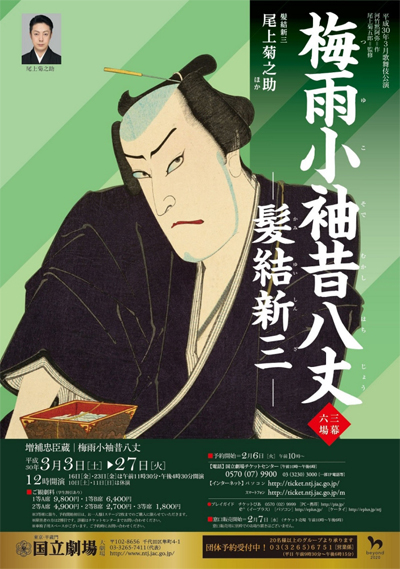 Dates
5 ~ 6 March 2018
Baish˘kai
Program

Otokomai

Casting
Comments

1st edition of the Baish˘kai, a gala program which stars Nakamura Shinobu and Ichikawa Emino.
Shungy˘ Special Tour
Dates
17 March ~ 5 April 2018
Shungy˘ Tokubetsu K˘en
The Dawn of Spring Special Performances
Program

Geidan

Urashima

Casting

Nakamura Kankur˘, Nakamura Shichinosuke, Nakamura Tsurumatsu

Comments

The Spring Tour of the Nakamuraya guild with performances in 12 cities. The first item (geidan) in this program is a talk.

Tsuru Kame: the crane (tsuru) is said to live for a thousand years, the tortoise (kame) is said to live for ten thousand years. Together, they are a traditional symbol of longevity. There is no particular plot to this play, but simply shows a visit by the empress to the Moon Pavilion where two courtiers dance as the spirits of the crane and tortoise.
Urashima: This dance depicts a Japanese folk tale of a young man named Urashima (Nakamura Kankur˘) who is invited to the Dragon Palace under the sea for saving a turtle's life. When Urashima returns back home, he finds that many year had elapsed during the few days he spent at the Dragon Palace. When he opens up the gift boxes, lovingly thinking of the Princess of the Sea who had given them to him, a puff of smoke appears and Urashima turns into an old man with silvery white hair. This dance utilizes many beautiful melodies and brilliantly expresses Urashima's feeling at the moment of change.
Makura Jishi: the keisei Yayoi performs a dance expressing her bitterness toward her dreary life in the gay quarters, but she gradually finds herself under the control of the lion spirit. In the second half of the dance, the lion spirit itself appears and performs its crazed dance among peonies and fluttering butterflies. Starring Nakamura Shichinosuke as both the courtesan Yayoi and the spirit of the lion.

Sources: Earphone Guide Website or Sh˘chiku Kabuki Official Website
Nihon Buy˘ for "Urashima"
Ichikawa Ebiz˘ Special Tour
Dates
1 March ~ 7 April 2018
Ichikawa Ebiz˘ Tokubetsu K˘en
Ichikawa Ebiz˘ Special Performances
Program
Casting

Ichikawa Ebiz˘, Kataoka Ichiz˘, Ichimura Kakitsu, Ichikawa Kudanji, ďtani Hiromatsu, Katayama Kur˘emon, Kanze Yoshimasa, Miroku Tadashi, Shigeyama Ippei, Ichikawa Botan

Comments

The Spring Tour of Ichikawa Ebiz˘ with performances in 23 cities. A special program mixing Kabuki, N˘ and Opera. The heir of the Naritaya guild performs in a special version of "Genji Monogatari", featuring the N˘ actors Katayama Kur˘emon X and Kanze Yoshimasa, and the Opera Tenor/Countertenor Miroku Tadashi. The script for this version of "Genji Monogatari" focuses on the story from Oborozukiyo to Suma/Akashi.

Genji Monogatari: Japan's oldest love story is reborn from a wondrous collaboration of Kabuki, N˘ and Opera. The Tale of Genji was written in the 11th century by Murasaki Shikibu, a lady of the Heian court. The whole story consists of 54 chapters and unfolds in a number of human relationships and romances that Hikaru-no-kimi,,the hero of the tale(acted by Ichikawa Ebiz˘), had in his life while describing to the court about life in the Heian period of Japan. This story is to recreate a new "The Tale of Genji" incorporating the essence of Kabuki, N˘, another form of traditional Japanese theatre culture, and Opera, an art long-cultivated in Western culture. That is sometimes elegant and quiet, yet sometimes dramatic and aggressive. The beautiful four seasons of Japan are recreated on the stage which will remind audiences of profoundness Japanese sensitivity.

Source: Sh˘chiku Kabuki Official Website
| | |
| --- | --- |
| Kanagawa Arts Theatre (Yokohama) | |

Dates
24 ~ 27 March 2018
Wakate Buy˘ K˘en SUGATA
Young Dancers Performances SUGATA
Program
Casting
Comments

A gala program called SUGATA (appearance) for the young actors Nakamura Takanosuke and Nakamura Tamatar˘.