Stage names:
| | |
| --- | --- |
| Kataoka Ichiz˘ IV | |
| Kataoka Jűz˘ IV | |
| Kataoka Kamez˘ III | |
Real name: Kataoka Ryűnosuke
Nickname: Kataichi
Guild: Matsushimaya
Line number: YODAIME (IV)
Poetry name: Gash˘
Existence: 7 October 1880 ~ 23 December 1926
Connections:
(Adopted ?) father: Kataoka Ichiz˘ III
Son: Kataoka Ichiz˘ V
Grandsons: Kataoka Ichiz˘ VI, Kataoka Kamez˘ IV
Disciple: Kataoka Hanz˘ III
Career:
1880: born in T˘ky˘ in Sakamoto in the district of Shitaya. He is the son or the adopted son of the actor Kataoka Ichiz˘ III.
September 1887: he makes his first stage appearance, receiving the name of Kataoka Kamez˘ III and playing the role of Higuchi Jin'emon in the "Ninokuchi-mura" scene of the play "Koi Bikyaku Yamato ďrai".
May 1898: premiere at the Kabukiza of Kawatake Shinshichi III's drama "Edo Sodachi Omatsuri Sashichi"; Kamez˘ plays the role of Otane [casting].
1900: Kamez˘ is drafted in the Japanese Imperial Army.
January 1904: Kataoka Kamez˘ III is back on stage, becomes nadai and takes the name of Kataoka Jűz˘ IV at the Kabukiza, playing the roles of Oshizu and Soga Gor˘ Tokimune in the dramas "Chűk˘ Ume Kanasawa" and "ďiso Wada Zakamori".
1905: Jűz˘ is drafted one more time and has to fight during the war between Japan and Russia.
March 1906: Jűz˘ is back to Japan alive and plays in "Mutsu Kiroku" and "Gunjin Katagi" ("A soldier's spirit"), two victory-commemorating war dramas directed by his father and performed at the Kabukiza.
11 December 1906: his (adopted ?) father Kataoka Ichiz˘ III dies.
October 1909: Kataoka Jűz˘ IV takes at the Kabukiza the name of Kataoka Ichiz˘ IV, playing the role of Sanshichir˘ Nobutaka in the drama "Yamato Bashi".
September 1922: revival at the Meijiza of Tsuruya Nanboku IV's drama "Nazo no Obi Chotto Tokubŕ"; Ichiz˘ plays the role of Issun Tokubŕ [more details].
November 1923: Ichiz˘ plays at the Minamiza in Azabu (T˘ky˘) the role of Takebe Genz˘ in the "Terakoya" scene of the classic "Sugawara Denju Tenarai Kagami". The roles of Matsu˘maru and Matsu˘maru's wife Chiyo are played by Ichikawa Chűsha VII and Band˘ Shűch˘ III. This is the first kabuki performance to be staged in T˘ky˘ after the terrible earthquake that hit the city the 1st of September 1923.
23 December 1926: Ichiz˘ dies in T˘ky˘.
Comments:
Talented supporting actor of the last years of the Meiji era and the Taish˘ era. Kataoka Ichiz˘ IV was able to perform both tachiyaku and onnagata roles, was a good dancer and had a great voice. Jitsugotoshi roles in sewamono were his forte.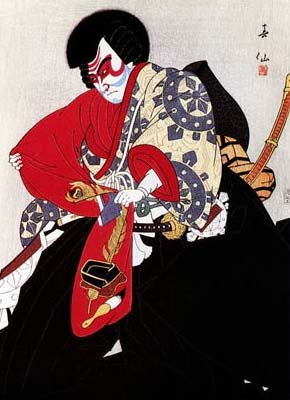 Kataoka Ichiz˘ IV playing the role of the monk warrior Benkei in a print made by Natori Shunsen in 1927
The Kataoka Kamez˘ line of actors
The Kataoka Jűz˘ line of actors
The Kataoka Ichiz˘ line of actors