Stage names:
Nakamura Denkur˘ VI
Nakamura Shikaku I
Onoe Baikaku
Ichikawa Yoshimaru
Real name: Sobue Yoshisabur˘
Guild: Shinkomaya
Line number: ROKUDAIME (VI)
Poetry names: Kito, Maizuru
Existence: 14th day of the 7th lunar month of 1859 ~ 20 July 1923
Connection:
Masters: Nakamura Kanjaku III, Onoe Sh˘roku
Adopted son: Nakamura Shikaku II
Career:
1859: born in Nagoya in the district of Suehiro-ch˘. His father Sobue Hy˘e is in the money-lending business.
1869: his father becomes the producer of a a troupe of children-actors performing in Nagoya at the Suehiroza; he makes his first stage appearance, playing under the name of Ichikawa Yoshimaru the roles of Sakuramaru and Shund˘ Genba in the classic "Sugawara Denju Tenarai Kagami". His elder brother is also a member of this troupe (his stage name is Ichikawa Rito).
1869 ~ 1876: he moves to ďsaka and becomes a disciple of Onoe Sh˘roku, who gives him the name of Onoe Baikaku. He plays in hama shibai theaters like the Takeda no Shibai or the Tenma no Shibai. Later on, he breaks off with Onoe Sh˘roku and becomes a disciple of Nakamura Kanjaku III, who gives him the name of Nakamura Shikaku I.
January 1877: Shikaku plays at the Naka no Shibai in the drama "Meiboku Sendai Hagi".
September 1885: Shikaku and Nakamura Umetar˘ go together to T˘ky˘ and join the Torikuma Shibai troupe at the Harukiza.
November 1896: Shikaku takes part in the opening ceremony of the Miyatoza [more details].
February/March 1904: successful premiere at the T˘ky˘za of Tsubouchi Sh˘y˘'s drama "Kiri Hitoha"; Shikaku plays the role of the ama Sh˘ei [more details].
1904 ~ 1909: Shikaku works as a producer at the Shintomiza.
October 1913: revival at the Kabukiza of the drama "Z˘hiki", which belongs to the Kabuki Jűhachiban; Shikaku plays the role of the k˘shitsu Atago-no-Mae [more details].
May 1919: Nakamura Shikaku I and his adopted son Nakamura Utanosuke III respectively take the names of Nakamura Denkur˘ VI and Nakamura Shikaku II at the Kabukiza; the new Denkur˘ plays the roles of Saruwaka Denkur˘ and Satsuki in the dramas "Tanzen Asaina" and "Ehon Taik˘ki".
July 1923: he joins the touring troupe led by Ichikawa Sadanji II and suddenly dies in his inn in the city of Gifu.
Comments:
Nakamura Denkur˘ VI was a versatile actor, able to play a broad range of roles as a tachiyaku or an onnagata. In his latter years, he excelled in katakiyaku and fukeyaku roles.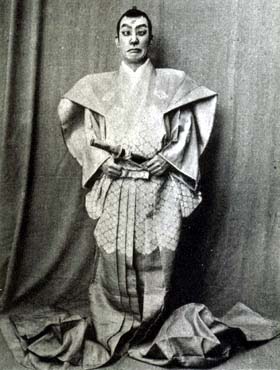 Nakamura Denkur˘ VI playing the role of Nikki Danj˘ in the drama "Meiboku Sendai Hagi"
The Nakamura Shikaku line of actors
The Nakamura Denkur˘ line of actors