| | |
| --- | --- |
| Kabukiza (T˘ky˘) | |
Dates
1 ~ 25 November 2016 (Kichirei Kaomise ďkabuki)
Annual Festive Face-Showing Grand Kabuki
MatinÚe

Shiki Sanbas˘

Evening
Casting

Living National Treasure Sakata T˘jűr˘, Living National Treasure Kataoka Nizaemon, Nakamura Shikan, Matsumoto K˘shir˘, Nakamura Baigyoku, Nakamura Tokiz˘, Nakamura Ganjir˘, Nakamura Senjaku, Ichikawa Somegor˘, Ichikawa Sadanji, Kataoka Hidetar˘, Band˘ Yajűr˘, Band˘ Hikosabur˘, Onoe Matsuya, Ichikawa Monnosuke, Ichikawa Komaz˘, Nakamura Baishi, Nakamura Hashinosuke, Nakamura Fukunosuke, Nakamura Utanosuke

Comments

Nakamura Shikan VIII and his three sons, Nakamura Hashinosuke IV, Nakamura Fukunosuke III and Nakamura Utanosuke IV, celebrated their second month of shűmei in T˘ky˘ at the Kabukiza.
| | |
| --- | --- |
| National Theatre (T˘ky˘) | |
Dates
2 ~ 26 November 2016
Program

Casting

Living National Treasure Onoe Kikugor˘, Living National Treasure Nakamura Kichiemon, Living National Treasure Nakamura T˘z˘, Nakamura Jakuemon, Onoe Kikunosuke, Nakamura Kaishun, Nakamura Kinnosuke, Ichikawa Danz˘, Onoe Sh˘roku, Nakamura Karoku, Nakamura Matagor˘, Kawarasaki Gonjűr˘, Arashi Kitsusabur˘, Band˘ Kamesabur˘, Band˘ Kametoshi, Nakamura Hayato, Nakamura Tanenosuke, Nakamura Kichinoj˘

Comments

Second month of the t˘shi ky˘gen production of the classic "Kanadehon Chűshingura" to celebrate the 50th anniversary of the opening of the National Theatre!

The play "Kanadehon Chűshingura" (The Treasure of 47 Loyal Retainers) is the most popular in the Kabuki repertory and is known throughout the world.

Tabiji no Hanamuko: after the death of his lord, the retainer Kanpei (Nakamura Kinnosuke) and his lover, the lady-in-waiting Okaru (Onoe Kikunosuke) flee to Okaru's home, a farmer's house in the country. Kanpei feels responsible for the events since he was having a romantic tryst and was not at his master's side at the crucial moment. He tries to commit suicide, but Okaru stops him and convinces him that they should go to her home as husband and wife and wait for the right moment for him to be reinstated.
Tepp˘ Watashi/Futatsudama/Kanpei Harakiri: Kanpei (Living National Treasure Onoe Kikugor˘) lives a poor life with Okaru (Onoe Kikunosuke) at her parents' rural home. Kanpei desperately wants to take part in the vendetta against Moron˘, but must come up with the money necessary to finance his part in it. Secretly, Okaru and her family decide that the only way to raise the money is to sell her to the pleasure quarters. On a lonely highway, a highway thief named Sadakur˘ (Onoe Sh˘roku) kills her father while he is on the way home from sealing the deal and the money is stolen. In a bizarre twist of events, Kanpei kills the robber while hunting on a dark night and finds the money. The fabric of the wallet, though, seems to prove that he has murdered his father-in-law. Kanpei commits ritual suicide to take responsibility, not only for the death of this father-in-law, but also for being absent when his lord needed him most. Featuring also Living National Treasure Nakamura T˘z˘, Ichikawa Danz˘, Nakamura Karoku and Kawarasaki Gonjűr˘.
Gion Ichiriki Jaya: Yuranosuke (Living National Treasure Nakamura Kichiemon) spends his days and nights in the pleasure quarters of Ky˘to in an effort to make Moron˘ believe he is not planning a vendetta. His acting is so good that even men in his own group believe he has given his life up to pleasure. Moron˘ is not so easily convinced, though, and has sent spies, including a former retainer of En'ya Hangan, to find Yuranosuke's true intentions. Yuranosuke finds himself tested to the limits by the spy, and is even forced to eat meat on the anniversary of Hangan's death, a strong taboo. Okaru (Nakamura Jakuemon), now a courtesan, is also at the Ichiriki Teahouse. She catches a glimpse of a letter to Yuranosuke detailing plans for the vendetta, but he sees her and offers to buy out her contract, knowing he must kill her to keep the vendetta a secret. Okaru's brother Teraoka Heiemon (Nakamura Matagor˘), a servant in the Hangan household, has also come to the teahouse and when he hears that Yuranosuke is to buy out her contract, he realizes his true intentions. Heiemon tries to convince Okaru to let him kill her as such an act may allow him to take part in the vendetta as well. Hearing that Kanpei is now dead, Okaru agrees, but observing their loyal actions, Yuranosuke spares Okaru and allows Heiemon to join the vendetta.

Source: Earphone Guide website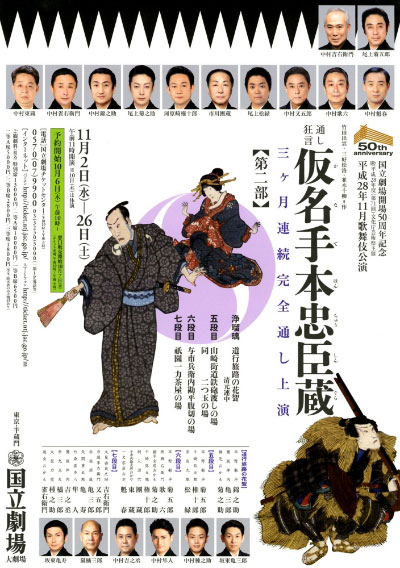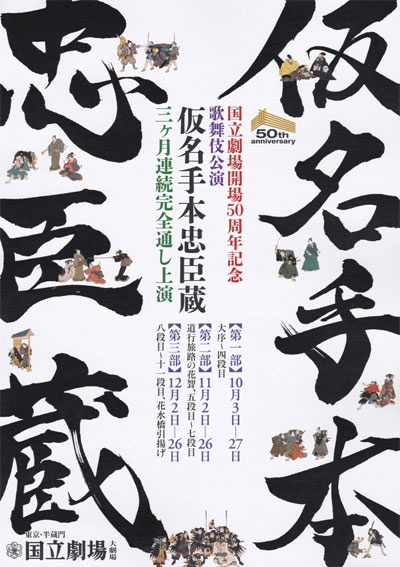 | | |
| --- | --- |
| Hakataza (Fukuoka) | |

Dates
3 ~ 25 November 2016 (Jűichigatsu Hanagata Kabuki)
November Young Actors Kabuki
Program

Ishikawa Goemon

Casting

Ichikawa Ebiz˘, Kataoka Takatar˘, Ichikawa Ukon, Nakamura Shid˘, Ichikawa En'ya, Ichikawa Emisabur˘, Kataoka Ichiz˘, Ichikawa Unosuke, Ichimura Kakitsu, Ichikawa Kudanji, ďtani Hiromatsu

Comments

This drama was premiered in August 2009 at the Shinbashi Enbuj˘.

| | |
| --- | --- |
| Eirakukan (Toyooka) | |
Dates
4 ~ 11 November 2016 (Eirakukan ďkabuki)
Eirakukan Grand Kabuki
Program

Shinshű Kawanakajima Kassen (Terutora Haizen)

Haru o Kasanete Shikai Nami

Casting

Kataoka Ainosuke, Kamimura Kichiya, Nakamura Kazutar˘, Nakamura Jűjir˘, Kataoka Senjir˘, Kataoka Senju

Comments

This is the 9th Kabuki program at the Eirakukan, a renovated traditional theater built in the city of Toyooka (prefecture of Hy˘go).

Terutora Haizen: a rare performance of a historical play by Chikamatsu Monzaemon I. The warlord Nagao Terutora (Kataoka Ainosuke) wants the services of the great strategist Yamamoto Kansuke who is now the strategist for his rival Takeda Shingen. The wife of one of Terutora's retainers is Kansuke's sister and so Terutora invites Kansuke's wife and mother to see her. When the two women arrive, Terutora brings the food tray himself and knowing what he has in mind, the old woman Koshiji (Kamimura Kichiya) kicks it. The furious Terutora wants to kill them all, but is restrained by Kansuke's wife Okatsu (Nakamura Kazutar˘), who desperately defends her mother, despite the fact that she cannot speak and must express herself in koto music instead.
K˘j˘: the close relationship between the actors and the audience is shown by stage announcements, usually lavish ceremonies to commemorate various important events. This month at the Eirakukan, it is a stage speech done by the main actors.
Haru o Kasanete Shikai Nami: a newly-created Kabuki drama, which was based on a script written by Ikkai Gyojin, who was in reality the Shinkigeki actor Soganoya Gor˘. Okitsu Shunsai (Nakamura Jűjir˘) serves as the Izumo lord's martial-arts coach. He is a master of the Itt˘-ryű school of swordsmanship. He has a beautiful daughter, named Namiji (Nakamura Kazutar˘), who is as good as father in swordsmanship. Shunsai could not find a suitable husband for Namiji in his clan and he has to find a son-in-law from other feudal clans. A potential husband is a young samurai named Takasago Tanomo (Kataoka Ainosuke). He is good-natured and good-looking but he belongs to the Bokuden-ryű school of swordsmanship. Shunsai is ready to accept the wedding at one condition related to swordsmanship, which puts the feasibility of the wedding at risk.

Sources: Earphone Guide Website or Sh˘chiku Kabuki Official Website
Sh˘chiku Kabuki Dance Tour
Dates
19 ~ 25 November 2016 (Sh˘chiku Kabuki Buy˘ K˘en)
Sh˘chiku Kabuki Buy˘ Performances
Program

Omemie Goaisatsu

Casting

Kataoka Ainosuke, Kamimura Kichiya, Kataoka Sentar˘

Comments

A special 3-city (Matsuyama, K˘chi and Sendai) Autumn Kabuki Buy˘ tour sponsored by the Sh˘chiku!

Goaisatsu: a k˘j˘ on stage made by Kataoka Ainosuke. Goaisatsu means greetings in Japanese.
Sagi Musume: one of the most famous dances in Kabuki, this figure is familiar through pictures and Japanese dolls. A beautiful young woman all in white appears in the snowy landscape. She dances lightly of love, but then reveals that she is the spirit of a bird, a magnificent heron that struggles wounded through a snowstorm. Starring onnagata superstar Kamimura Kichiya in a dance that he has made famous through performances around the world.
Renjishi: 2 entertainers dance a tale of the legendary shishi or lion-like spirits that live at the foot of a holy Buddhist mountain. There is a comic interlude with 2 Buddhist pilgrims. Then, the shishi themselves appear and perform their dance with wild shaking of their long manes. The dance shows a parent shishi forcing his cub to undergo harsh training in order to grow up strong. This theme is often associated with the training a parent actor gives his son. This performance features Kataoka Ainosuke in the role of the parent shishi and Kataoka Sentar˘ in the role of the cub.

Source:

Earphone Guide

website
| | |
| --- | --- |
| Yachiyoza (Yamaga) | |

Dates
29 October ~ 3 November 2016 (Band˘ Tamasabur˘ Tokubetsu Buy˘ K˘en)
Band˘ Tamasabur˘ Special Dance Performances
Program

Aki no Irokusa

Genroku Hanami Odori

Casting

Living National Treasure Band˘ Tamasabur˘

Comments

A special Buy˘ program starring the amazing Living National Treasure onnagata Band˘ Tamasabur˘ in Yamaga at the Yachiyoza, a traditional wooden-built theater.

K˘j˘: the close relationship between the actors and the audience is shown by stage announcements, usually lavish ceremonies to commemorate various important events. This month at the Yachiyoza, it is a stage speech done by Living National Treasure Band˘ Tamasabur˘.
Aki no Irokusa:
(The Colors of Autumn)
A beautiful dance about autumn and all its associated images : morning glories, violets, arrowroot, pampas grass, the cry of passing geese sounding over the sailing ships, the sweet cacophony of insects, the moon and winds of autumn. Starring Living National Treasure Band˘ Tamasabur˘.
Genroku Hanami Odori:
(Viewing the Cherry Blossoms in the Genroku Period)
It is in the Genroku period (late 17th century) and the cherry blossoms are in full bloom on the hill of Ueno in Edo (present day T˘ky˘). Men and women dressed up in showy outfits gather to view cherry blossoms and begin to dance. After the song about the custom of flower viewing in Kyoto, the drunken people start a lively dance. The dance under the cherry blossoms continues endlessly. Starring Living National Treasure Band˘ Tamasabur˘.

Sources: Earphone Guide Website or Sh˘chiku Kabuki Official Website
Kinshű Special Tour
Dates
7 ~ 25 November 2016
Program

Kabuki-juku

Casting

Nakamura Kankur˘, Nakamura Shichinosuke, Nakamura Tsurumatsu, Nakamura Kosabur˘, Nakamura Ich˘, Nakamura Nakashir˘, Nakamura Nakanosuke, Sawamura Kunihisa

Comments

The word kinshű means "Autumn Brocade". This Autumn tour stars Nakamura Kankur˘ and Nakamura Shichinosuke. The first item in the program is a speech/presentation on stage about some aspects of Kabuki.

Kabuki-juku: literally the "Kabuki cram school". A speech on stage and a lively presentation of some aspects of the art of Kabuki.
Shiokumi: in the classical N˘ Theatre, there are few plays as evocative as Matsukaze, the story of a court noble exiled to the seacoast where he falls in love with two fisher women. The women make their living scooping up heavy buckets of sea water to make salt and this has become a famous dance. Starring Nakamura Shichinosuke as the shiokumi Matsukaze.
Shiokumi: in the classical N˘ Theatre, there are few plays as evocative as Matsukaze, the story of a court noble exiled to the seacoast where he falls in love with two fisher women. The women make their living scooping up heavy buckets of sea water to make salt and this has become a famous dance. Starring Nakamura Kankur˘ as the shiokumi Matsukaze.

Sources: Earphone Guide Website or Sh˘chiku Kabuki Official Website
| | |
| --- | --- |
| Shibuya-ku Bunka S˘g˘ Center ďwada (T˘ky˘) | |