Stage names:
| | |
| --- | --- |
| Onoe Kikujir˘ III | |
| Onoe Fujaku VIII | |
| Onoe Umejir˘ | |
Real name: Okada K˘jir˘
Guild: Otowaya
Line number: SANDAIME (III)
Poetry name: Baika
Existence: 10 October 1882 ~ 27 August 1919
Connections:
Master: Onoe Kikugor˘ V
Disciple: Onoe Hanamaru
Career:
1882: born in T˘ky˘, in the district of K˘jimachi, in the family of a publisher.
May 1893: he became disciple of Onoe Kikugor˘ V and appeared on stage for the first time at the Harukiza (T˘ky˘), where he received the name of Onoe Umejir˘.
May 1898: premiere at the Kabukiza of Kawatake Shinshichi III's drama "Edo Sodachi Omatsuri Sashichi"; Umejir˘ played the role of Oyuki [casting].
March 1905: Onoe Umejir˘ became nadai and took the name of Onoe Fujaku VIII at the Kabukiza, performing in the drama "Imoseyama Onna Teikin".
September 1914: premiere at the Ichimuraza of Furukawa Shinsui's drama "Ansei Kibun Tsukuda no Yoarashi"; Fujaku played the role of the keisei Hagoromo [more details].
March 1915: Onoe Fujaku VIII took the name of Onoe Kikujir˘ III at the Ichimuraza, playing the prestigious role of the courtesan Agemaki in the drama "Sukeroku no Momoyogusa".
September 1918: premiere at the Ichimuraza of Okamura Shik˘'s dance-drama "Imohori Ch˘ja"; Kikujir˘ played the role of the Matsugae k˘shitsu [casting].
March 1919: Kikujir˘ played at the Imperial Theater the role of Okane in the drama "Ninj˘ Banashi Bunshichi Mottoi"; the role of Ch˘bŕ was played by Onoe Kikugor˘ VI.
August 1919: Kikujir˘ appeared on stage for the last time, at the Imperial Theater, playing the roles of Otsuyu's ghost and Omine in the summer ghost play "Kaidan Botan D˘r˘". He suddenly dies the 27th of August 1919. People in the Kabuki world believed that he was, along with Kawarasaki Kunitar˘ IV, his stage partner in the play in the role of Oyone's ghost who died the 13th of August 1919, victim of a curse casted by real ghosts: "there is a superstition concerning The Peony Lantern to the effect that actors who play the ghosts' r˘les soon pass away. This was brought home when the play was presented at the Imperial Theatre in August 1919. During the performances two of the most promising young actors of T˘ky˘, taking the r˘les of mistress and maid, took ill and died within a week of each other. Nightly they had been seen, pale-faced, the hair worn long and dishevelled, the maid with the ghostly lantern in hand, moving behind the willow tree. Soon they were to become like the shades they impersonated, no longer of the earth, earthy" (ZoŰ Kincaid in "Kabuki, the Popular Stage of Japan").
Comments:
Onoe Kikujir˘ III was a talented onnagata. Unfortunately he died young at the age of 38. His best role was the courtesan Michitose in the drama "Naozamurai".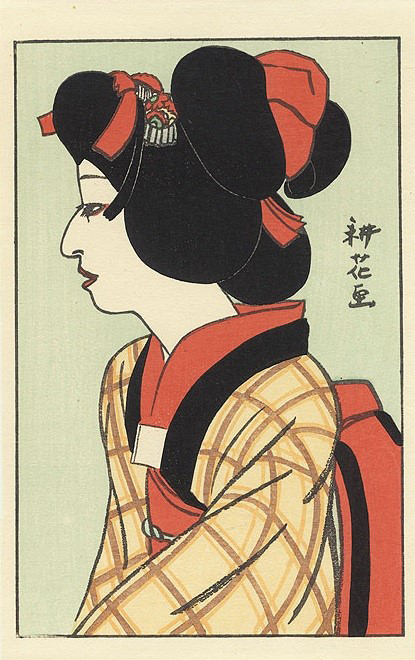 Onoe Kikujir˘ III playing the role of Okuma in the drama "Tsuyu Kosode Mukashi Hachij˘" (print made by Yamamura Toyonari)
The Onoe Fujaku line of actors
The Onoe Kikujir˘ line of actors