| | |
| --- | --- |
| Shinbashi Enbuj˘ (T˘ky˘) | |
Dates
4 ~ 23 August 2012 (Hachigatsu Hanagata Kabuki)
August Young Actors Kabuki
MatinÚe
Evening
Casting

Ichikawa Ebiz˘, Kataoka Ainosuke, Nakamura Fukusuke, Ichikawa Ukon, Ichimura Kakitsu, Kataoka Ichiz˘, Ichikawa Emiya, Kataoka Kamez˘, Ichimura Manjir˘, Ichikawa K˘tar˘, Ichikawa Juen, Nakamura Kotar˘

Comments

Sakura Hime: Tsuruya Nanboku IV (1755~1829) is most famous for his chilling ghost play "Yotsuya Kaidan". But many believe that "Sakurahime Azuma Bunsh˘" is an even finer play in its examination of human psychology and portrait of the dark side of life in the Edo period. The play takes the very old story of a priest falling in love with a princess, adds ghosts and slices of the grittiest faces of the bottom of Edo period society for a sensational play. Princess Sakura begins as the pampered daughter of a powerful warrior clan and ends up as a cheap prostitute hounded by the ghost of a priest in love with her. Although the play was rarely performed in the Edo period, after being revived as a full-length play at the National Theatre, it has become a star vehicle for top onnagata female role specialists like Nakamura Jakuemon and Band˘ Tamasabur˘, and has been performed abroad to great acclaim. A priest named Seigen goes to commit love suicide with a young temple page named Shiragiku. They are to plunge into the sea together, but at the last moment, Seigen loses his nerve and the boy dies alone. Seventeen years later, Seigen is a high-ranking priest who has been called to cure Princess Sakura, the seventeen-year old daughter of the Yoshida clan. He cures her, and learns that she is the reincarnation of Shiragiku. Princess Sakura wishes to become a nun, in fact because she has fallen in love with a thief named Gonsuke, who raped her one night. On the verge of becoming a nun, Princess Sakura encounters Gonsuke and quickly desire brings them together. Princess Sakura is denounced and becomes an outcast for her sexual crime and, although innocent, Seigen takes the blame, feeling guilty for having abandoned her in her previous incarnation as Shiragiku. The story of Princess Sakura continues as Seigen pursues her, defrocked and madly in love with Princess Sakura. Eventually he is killed, but becomes a ghost that goes with her as she sinks lower and lower, eventually becoming a low-class prostitute that speaks with an odd blend of gutter talk and the elegant words of a princess. The play follows Princess Sakura, Seigen and Gonsuke as they circle deeper and deeper into the dark, reaches of society. But far from being a dark play, it is colorful and spectacular and full of unexpected moments of comedy. Featuring Kataoka Ainosuke (Seigen), Nakamura Fukusuke (Shiragiku/Princess Sakura) and Ichikawa Ebiz˘ (Gonsuke). Featuring also Kataoka Ichiz˘, Kataoka Kamez˘, Ichimura Manjir˘, Ichikawa Ukon and Ichikawa Emiya.
Date no Jűyaku: One of the most famous plays in Kabuki is "Meiboku Sendai Hagi", the story of the fabulously wealthy Date clan in Sendai and plots to take over the clan. In the early 19th century, this play was rewritten by Tsuruya Nanboku IV (1755~1829) so that one actor could play all the roles, switching from one to another with fast changes. The script for this particular version was lost, but some 35 years ago, Ichikawa Ennosuke had a new version prepared and this has since become a classic of Ennosuke's style of Kabuki. Ichikawa Ebiz˘ plays ten roles, male and female, young and old, villain and hero.

Source: Earphone Guide website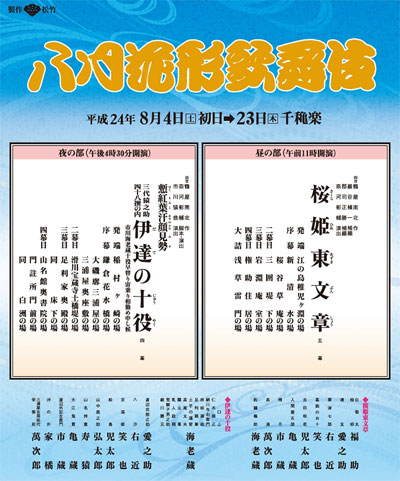 | | |
| --- | --- |
| National Theatre (T˘ky˘) | |
Dates
4 ~ 5 August 2012 (Ne no Kai)
Program

Oimatsu

Goj˘ Bashi

Meriyasu Onnagi

Sh˘jir˘ Renjishi

Comments

14th edition of the summer program of the association Ne no Kai (literally 'the Sound Association'). The first four items feature only the geza musicians and the Nagauta music ensemble. The last one is a Kabuki drama, which stars disciples of major actors.
Dates
23 ~ 26 August 2012 (Chigyokai/Kabukikai)
Program

Ehon Taik˘ki (Amagasaki Kankyo)

Imoseyama Onna Teikin
(Michiyuki Koi no Odamaki)

Comments

18th edition of the common program for 2 associations, the Chigyokai (the Young Fishes Association) and the Kabukikai (the Kabuki Association), which stars stars' disciples in the leading roles of all the items in the program.
| | |
| --- | --- |
| National Bunraku Theatre (ďsaka) | |
Dates
25 ~ 26 August 2012 (Matsuo-juku Kodomo Kabuki)
Matsuo Academy of Kabuki ~ Kabuki for Kids Performance
Program

Ume no Yoshibŕ

Nagauta Suehirogari

Comments

The Matsuo-juku Kodomo Kabuki [website in Japanese] is a kodomo shibai troupe, founded in ďsaka in 1988 by Matsuo Hazue, the wife of Matsuo Kuniz˘ (1899~1984), whose name is closely associated to the Matsuo Artistic Awards (Matsuo Gein˘ Sh˘). The troupe is now led by Matsuo Hazue's daughter Matsuo Hideko. The troupe celebrates its 25th anniversary in 2012!
ďsaka N˘gaku Kaikan (ďsaka)
Dates
25 August 2012 (Sennoj˘ no Kai)
MatinÚe

Shizuka to Tomomori

Evening

T˘senj˘

Shizuka to Tomomori

Casting
Comments

1st edition of the gala of the association Sennoj˘ no Kai, which supports the young and talented Narikomaya actor Nakamura Sennoj˘.
Saigawa Ryokuchi K˘en (Kanazawa)
Dates
17 ~ 20 August 2012 (Kanazawa Kawara Kabuki)
Kanazawa Riverbed Kabuki
Program
Casting

Nakamura Tsurumatsu, Nakamura Kosabur˘, Nakamura Nakashir˘, Nakamura Nakanosuke, Nakamura Ich˘, Sawamura Kunihisa

Comments

Outdoors Kabuki performances near the Saigawa river in the city of Kanazawa. A temporary structure is built in the Saigawa "Green" Park.