2 shows in Ky˘to (Minamiza) and 3 in T˘ky˘ (Kabukiza, National Theatre)!
Living National Treasure Sakata T˘jűr˘, Living National Treasure Kataoka Nizaemon, Nakamura Ganjir˘, Nakamura Hashinosuke, Nakamura Baigyoku, Nakamura Tokiz˘, Nakamura Senjaku, Kataoka Takatar˘, Ichikawa Ebiz˘, Kataoka Ainosuke, Kataoka Hidetar˘ and Ichikawa Sadanji perform at the Minamiza!
Matsumoto K˘shir˘, Ichikawa Somegor˘, Nakamura Kinnosuke and Band˘ Yajűr˘ perform at the National Theatre
Living National Treasure Band˘ Tamasabur˘, Nakamura Shichinosuke, Onoe Sh˘roku, Nakamura Karoku, Ichikawa Chűsha, Ichikawa Monnosuke and Ichikawa Ukon perform at the Kabukiza!
| | |
| --- | --- |
| Minamiza (Ky˘to) | |

Dates
30 November ~ 26 December 2015 (Kichirei Kaomise K˘gy˘)
Annual Festive Face-Showing Performances
MatinÚe
Evening
Casting

Living National Treasure Sakata T˘jűr˘, Living National Treasure Kataoka Nizaemon, Nakamura Ganjir˘, Nakamura Hashinosuke, Nakamura Baigyoku, Nakamura Tokiz˘, Nakamura Senjaku, Kataoka Takatar˘, Ichikawa Ebiz˘, Kataoka Ainosuke, Kataoka Hidetar˘, Ichikawa Sadanji, Nakamura T˘z˘, Nakamura Kikaku, Nakamura Kazutar˘, Kataoka Shinnosuke, Nakamura Baishi

Comments

The traditional kaomise in Ky˘to at the Minamiza. Nakamura Ganjir˘ IV celebrates his shűmei in this prestigious theater.

Sources: Earphone Guide Website or Sh˘chiku Kabuki Official Website
| | |
| --- | --- |
| National Theatre (T˘ky˘) | |
Dates
3 ~ 26 December 2015
Program
Casting

Matsumoto K˘shir˘, Ichikawa Somegor˘, Nakamura Kinnosuke, Band˘ Yajűr˘, ďtani Tomoemon, Kataoka Kamez˘, Ichimura Manjir˘, Ichikawa Komaz˘, Matsumoto Kingo, Nakamura Matsue, Sawamura S˘nosuke, ďtani Keiz˘, Nakamura Hayato, Nakamura Yonekichi, ďtani Hirotar˘, Band˘ Shingo

Comments

Tsuruya Nanboku IV's masterpiece "T˘kaid˘ Yotsuya Kaidan" is staged in 3 acts (10 scenes), starring Matsumoto K˘shir˘ and his son Ichikawa Somegor˘. Most of the acts/scenes are the ones usually staged. There is one interesting add-on: the rarely-staged "At the Refuge of Oshioda Matanoj˘'s Family" as the second scene of the 3rd act, which was staged for the last time in Spring 2006 at the Cocoon Kabuki.

Yotsuya Kaidan: the works written by Tsuruya Nanboku IV, who represents Edo-kabuki playwrights in the Bunka-Bunsei period (1804-1830), captivated an audience through the realistic portrayal of the ordinary citizens and the customs of the Edo period as well as some wild ideas in the stage setting. Among them is a crowning work "T˘kaid˘ Yotsuya Kaidan". This play had its premiere in July 1825 at the Nakamuraza Theatre in Edo along with the masterpiece "Kanadehon Chűshingura". It took two days to present all the scenes from the two dramas, each of which was divided into two and played alternately. "T˘kaid˘ Yotsuya Kaidan" plays out against the backdrop of the world of "Chűshingura". The retainers who became r˘nin (masterless samurais) as the En'ya family died out after En'ya Hangan attacked K˘ no Moron˘ with a sword. The fates of the retainers and the people around them are portrayed in a sad, painful, and horrible manner. In order to highlight the background of the story, enough thought has been given to the script and the staging of this performance, such as the inclusion of the rarely-performed "Oshioda Matanoj˘ Kakurega". Tamiya Iemon, a villainous masterless samurai is in love with Oiwa and even kills her father Yotsuya Samon to be united with her, cynically promising to help her to avenge her father's death. But at the same time, the granddaughter of a wealthy doctor falls in love with him and her grandfather tries to ensure the match by sending a horrible disfiguring poison to Oiwa. In the most famous scene of the play, face destroyed, hair falling out, Oiwa carefully dresses and puts on make-up to pay a proper visit to those who have wronged her. Iemon kills Oiwa and his servant Kobotoke Kohei, has their bodies nailed to a door and thrown into the river. Iemon is happily married into the wealthy family, but no sooner does the beautiful young bride arrive than Oiwa's ghost causes Iemon to kill her. The vengeful ghosts do not rest until all of their enemies are dead and, in another famous scene, Oiwa and Kohei appear floating on the river, calling out to Iemon. The concluding scene shows the ghost of Oiwa appearing mysteriously from inside a paper lantern and pulling her enemies into the wall and disappearing magically. Matsumoto K˘shir˘ will play Iemon for the first time in 23 years, while Ichikawa Somegor˘ challenges the triple role of Oiwa, Kohei, and Yomoshichi. Featuring Band˘ Shingo, Nakamura Kinnosuke and Band˘ Yajűr˘ in the roles of Oiwa's sister Osode, Oshioda Matanoj˘ and Naosuke Gonbŕ.

Source: National Theatre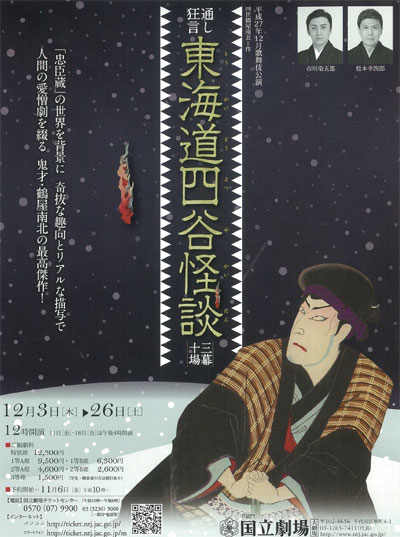 | | |
| --- | --- |
| Kabukiza (T˘ky˘) | |
Dates
2 ~ 26 December 2015 (Jűnigatsu ďkabuki)
December Grand Kabuki
MatinÚe

Akai Jinbaori

Evening

Casting

Living National Treasure Band˘ Tamasabur˘, Nakamura Shichinosuke, Onoe Sh˘roku, Nakamura Karoku, Ichikawa Chűsha, Ichikawa Monnosuke, Ichikawa Ukon, Onoe Matsuya, Nakamura Kotar˘, Kawarasaki Gonjűr˘, Kamimura Kichiya, Band˘ Kamesabur˘, Band˘ Kametoshi, Nakamura Kamenoj˘

Comments

The zagashira for these two programs of the December Grand Kabuki at the Kabukiza is Living National Treasure Band˘ Tamasabur˘. The two highlights are the spectacular dance-drama "Tsumoru Koi Yuki no Seki no To" in the matinÚe program and a t˘shi ky˘gen production of "Imoseyama Onna Teikin" in 3 acts in the evening program. Regarding this t˘shi ky˘gen, the rarely-staged "Sugi Sakaya" act is revived. It was staged for the last time in June 1970 at the Minamiza. Living National Treasure Band˘ Tamasabur˘ plays the roles of the courtesan Sumizome, in reality the spirit of Komachi's cherry tree, in "Seki no To" and Omiwa in "Mikasayama Goten". The other star of this December Grand Kabuki is Nakamura Shichinosuke, who plays the roles of Princess Yaegaki, Ono no Komachi and Omiwa in "Jusshuk˘", "Seki no To" and "Sugi Sakaya"/"Koi no Odamaki".

Sources: Earphone Guide Website or Sh˘chiku Kabuki Official Website