Play title
Shinjû Ten no Amijima
Authors
Chikamatsu Monzaemon
Chikamatsu Hanji
History

The play "Shinjû Ten no Amijima" was originally written for the puppet theater (Bunraku) and staged for the first time in Ôsaka at the Takemotoza in the 12th lunar month of 1720. It was based on a real event that happened in Ôsaka the 14th day of the 10th lunar month of 1720: the double suicide in Amijima in the precinct of the Daichôji Temple of Kamiya Jihê (a paper merchant from the Tenma district) and the courtesan Kinokuniya Koharu (from the Kita-Shinchi pleasure quarter). "Shinjû Ten no Amijima" was adapted for Kabuki the following year and staged for the first time in Summer 1721 in Edo at the Moritaza. The roles of Kamiya Jihê and Koharu were played by Ichikawa Ebizô II and Sodesaki Miwano I.

Structure

"Shinjû Ten no Amijima" is made up of three acts.

Key words
Gidayû Kyôgen
Sewamono
Shinjûmono
Summary

Act I: The Kawashô Teahouse (Kawashô)

Koharu is worried for her lover Jihê, who has a wife, Osan, and two small children. She receives a letter from Osan urging her to break with Jihê. Another courtesan encourages Koharu to cheer herself by finding another lover, the wealthy Tahei. Koharu's denigration of Tahei is overheard by the would-be lover, who threatens Koharu and insults the absent Jihê. Tahei also abuses Koharu's customer, Magoemon, who is Jihê's brother in disguise. Magoemon expels Tahei and then tries to discover whether Koharu is contemplating a love suicide. Jihê, jealous that Koharu has another customer, listens outside and is shocked to hear Koharu renounce the idea. Jihê slashes at her through the window and, in comic-pathetic fashion, has his hand bound to the window by Magoemon who departs with Koharu. A short time later, Magoemon rescues Jihê from a thrashing by Tahei. Magoemon warns Jihê to break off the love affair and Jihê pretends to do so by returning all of Koharu's letters. However, an exchange of looks by the lovers reveals their resolution to die.

Act II: The House of Kamiya Jihê (Shigure no Kotatsu)

Osan plays with her children while Jihê feigns sleep by the brazier. Magoemon arrives and informs Osan of a rumor that Jihê will ransom Koharu. Jihê denies the rumor and Magoemon leaves. Jihê sobs underneath his blanket and lies again to Osan. Osan is not fooled, confesses her letter to Koharu, and tells Jihê that she has scraped together one hundred and fifty gold coins, by selling her best kimono and the children's winter clothes, to ransom Koharu. Gozaemon, Osan's father, arrives and thwarts the ransom. He takes Osan and the money with him, leaving the two children to Jihê. Osan's suffering is the climax of the play.

Act III: the michiyuki

Koharu and Jihê evade Magoemon and set out on their michiyuki to Amijima. The lovers make a symbolic descent into hell, and ascend to death at daybreak. Thus, paradise is represented as a new dawn. Koharu's final action is an expression of sorrow for the hardship that she has caused Osan. Jihê stabs Koharu and hangs himself with her sash.

Paul Kennelly (original )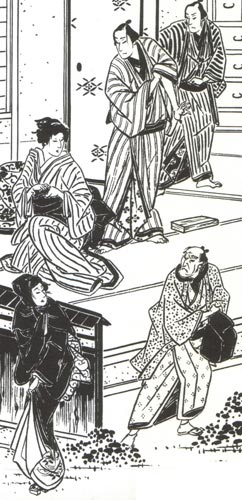 "Shinjû Ten no Amijima"