Stage names:
Nakamura Tôzô I
Nakamura Utaemon II
Mizuki Tôzô I
Guilds: Ebisuya, Yamatoya
Line number: SHODAI (I)
Poetry names: Jûgyô, Kajû, Kaju
Existence: 1752 ~ 22nd day of the 3rd lunar month of 1798
Connection:
Masters: Nakamura Utaemon I, Mizuki Masano
Son: Nakamura Tôzô II
Grandson: Nakamura Shikan III
Great-grandsons: Nakamura Tamashichi I, Nakamura Tsurusuke V
Career:
1752: born in Kyôto. He starts his career as a disciple of Mizuki Masano, who gives him the name of Mizuki Tôzô I and trains him as a jitsuaku actor.
1780: he becomes disciple of Nakamura Utaemon I.
11th lunar month of 1782: Nakamura Utaemon I and his disciple Nakamura Tôzô I respectively take the names of Kagaya Kashichi I and Nakamura Utaemon II; the former Utaemon celebrates his shûmei in Ôsaka at the Naka no Shibai and the latter Utaemon celebrates his shûmei in Kyôto, playing at Hayagumo Chôdayû's theater the roles of Yokoyama Daizen and the tayû Sanshô in the kaomise drama "Gosekkyô Suehiro Keizu".
1st lunar month of 1784: Tôzô's rank in the Kyôto hyôbanki, jitsuaku/katakiyaku section, is jô-jô-(shiro)kichi (superior - superior - (white) excellent) [visual].
1790: he gives his name to his master's son, who becomes Nakamura Utaemon III, and takes back the name of Nakamura Tôzô I.
7th lunar month of 1791: Tôzô plays at the Kitagawa no Shibai the roles of Tsuribune Sabu and Mikawaya Giheiji in the drama "Natsu Matsuri Naniwa Kagami"; his stage partners are Kataoka Nizaemon VII (Danshichi Kurobê) and Arashi Kichisaburô II (Issun Tokubê).
29th day of the 10th lunar month of 1791: his master Kagaya Kashichi I dies.
22nd day of the 3rd lunar month of 1798: Tôzô dies.
Comments:
Nakamura Tôzô I was an actor, who made all his career in his native Kamigata during the second half of the 18th century. He was mainly a jitsuaku actor, trained by one of the best jitsuaku of his time, but never reached the same levels of art and fame as his master.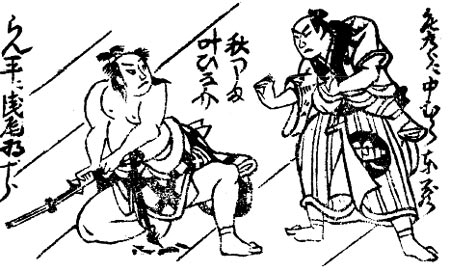 Kanô Hinasuke I (left) and Nakamura Tôzô I (right) in Kyôto in 1792
The Nakamura Utaemon line of actors
The Nakamura Tôzô line of actors