| | |
| --- | --- |
| Shinbashi Enbuj˘ (T˘ky˘) | |
| | |
| --- | --- |
| National Theatre (T˘ky˘) | |
Dates
3 ~ 26 November 2010
Program
Casting

Ichikawa Danjűr˘, Sakata T˘jűr˘, Nakamura Baigyoku, Nakamura Kanjaku, Ichikawa Sadanji, Nakamura T˘z˘, u3, Ichimura Kakitsu, Kataoka Ichiz˘, Nakamura Kikaku, Nakamura Matsue

Comments

Kokusen'ya Gassen: originally written for the Bunraku puppet theatre, it is oldest period play in the puppet repertory with a continuous performance tradition. This exotic play on a grand scale by Chikamatsu Monzaemon is based on the true story of a warrior from Japan, who fought in China to restore the Ming dynasty after its fall. Wat˘nai (whose name means "neither Chinese nor Japanese") is the son of a Chinese official and a Japanese mother. This performance features the touching drama as Wat˘nai (Ichikawa Danjűr˘) goes with his parents to try to enlist the aid of his sister Kinsh˘jo (Sakata T˘jűr˘), now the wife of the powerful Chinese general Kanki (Nakamura Baigyoku). She eventually agrees, but can only do so by making a terrible sacrifice. This full-length performance also features very rarely performed scenes showing the Chinese Ming dynasty being overtaken by tribes from the north and the call for help, a call that goes to Japan.

Source: Earphone Guide website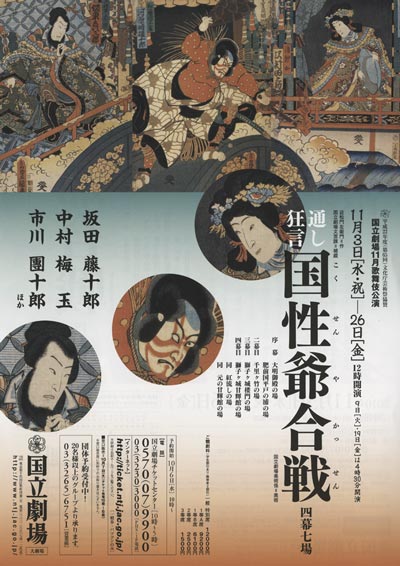 Heisei Nakamuraza (ďsaka)
Dates
2 ~ 26 November 2010
MatinÚe
Second program

Casting

Nakamura Kanzabur˘, Nakamura Hashinosuke, Nakamura Senjaku, Band˘ Yajűr˘, Nakamura Kantar˘, Nakamura Shichinosuke, Kataoka Kamez˘, Sasano Takashi, Band˘ Shingo

Comments

The Heisei Nakamuraza is in ďsaka for the second time. This time, it is a 2-month project, with four different programs (2 in October and 2 in November).

H˘kaib˘: a full-length performance of a comic play featuring the antics of an evil begging priest named H˘kaib˘. In this case, it is a special version of this Kabuki classic staged by modern theater director Kushida Kazuyoshi. H˘kaib˘ (Nakamura Kanzabur˘) is in love with the beautiful, young Okumi (Nakamura Senjaku) who is herself in love with Y˘suke, a servant at her father's store. Y˘suke (Nakamura Kantar˘) is actually an aristocrat searching for the lost treasure of his family. He regains possession only to have the scroll stolen by H˘kaib˘. Y˘suke accepts Okumi's love, but is also pursued by Princess Nowake (Nakamura Shichinosuke), his true fiancee. In a grim but humorous scene at a graveyard, everyone tries to get Okumi and the scroll. But H˘kaib˘ ends up killing Princess Nowake and is killed himself before he can enjoy the fruits of his villainy. The last scene, "Futa Omote Mizu ni Terutsuki", is one of the great classics of dance and is often performed separately. Y˘suke and Okumi try to run off together only to find a strange figure that looks exactly like Okumi. Y˘suke tries to find out which is the real Okumi. In fact, in a virtuoso turn for the star actor who plays this double role, the mysterious figure is made up of the combined spirits of H˘kaib˘ and Princess Nowake, each questing for love even after death. Featuring also Nakamura Hashinosuke as Jinzabur˘.
Natsu Matsuri: this grisly murder story became a smashing hit when it was first performed in 1745 because of the chivalrous spirit of the many ďsaka characters appearing in this story, the contrast between a brutal murder and the jovial mood of a summer festival, and the splashing of real water used on the stage. Danshichi, a gallant fishmonger, does everything he can to protect the weak young son of his patron with the help of his companion Tokubŕ and the older Sabu. Although even Tokubŕ's wife Otatsu heroically helps out, in the end, Danshichi is betrayed by his evil father-in-law Giheiji and, in the most famous scene of the play, must kill him in a mud-covered fight in a lonely alley with the shouts of the local festival nearby. This program stars Nakamura Kanzabur˘ as Danshichi, with Nakamura Hashinosuke and Band˘ Yajűr˘ as Tokubŕ and Sabu.

Source: Earphone Guide website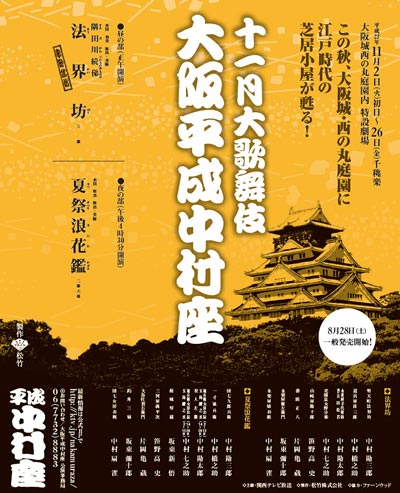 Sh˘chiku Grand Kabuki Tour
Dates
1 ~ 25 November 2010 (Sh˘chiku ďkabuki Shűki K˘en)
Sh˘chiku Grand Kabuki Autumn Public Performances
Program

Urashima

Dorob˘ to Wakatono

Casting

Band˘ Mitsugor˘, Band˘ Shűch˘, Onoe Sh˘roku, Band˘ Kamesabur˘, Band˘ Kametoshi, Band˘ Minosuke

Comments

Urashima: This dance depicts a Japanese folk tale of a young man named Urashima (Band˘ Minosuke) who is invited to the Dragon Palace under the sea for saving a turtle's life. When Urashima returns back home, he finds that many year had elapsed during the few days he spent at the Dragon Palace. When he opens up the gift boxes, lovingly thinking of the Princess of the Sea who had given them to him, a puff of smoke appears and Urashima turns into an old man with silvery white hair. This dance utilizes many beautiful melodies and brilliantly expresses Urashima's feeling at the moment of change.
Dorob˘ to Wakatono:
(The Thief and the Samurai Lord)
This is a new play that is a dramatization of a story by popular historical novelist Yamamoto Shűgor˘. It shows a surprising encounter between a thief and a high-ranking samurai lord. Starring Onoe Sh˘roku as the thief and Band˘ Mitsugor˘ as the samurai lord.
Migawari Zazen: a dance play adopted from a classical ky˘gen farce. A man (Band˘ Mitsugor˘) wants nothing more than to visit his lover Hanako, but he has one important problem, his homely and overbearing wife (Onoe Sh˘roku). He creates a scheme saying that he will be practicing Zen meditation all night and has his servant (Band˘ Kamesabur˘) take his place while he visits Hanako. He returns, giddy from a night of pleasure and tells his story to his servant in dance, unaware that his wife has discovered his deception and has taken his servant's place.

Sources: Earphone Guide website
Nihon Buy˘ for "Urashima"
| | |
| --- | --- |
| Yachiyoza (Yamaga) | |

Dates
31 October ~ 15 November 2010
Program
Casting
Comments

A special Buy˘ program starring the amazing onnagata Band˘ Tamasabur˘ in Yamaga at the Yachiyoza, a traditional wooden-built theater, which celebrates the 100th anniversary of its opening.

K˘j˘: the close relationship between the actors and the audience is shown by these stage announcements, lavish ceremonies to commemorate various important events. In this case, Band˘ Tamasabur˘ and Nakamura Shid˘ talk about the 100th anniversary of the opening of the Yachiyoza.
Hagoromo: the legend of the angel who came to earth to bathe and then had her heavenly feathered robe stolen by a fisherman is famous in all forms of Japanese theater. This month features an elegant dance version of the story with Nakamura Shid˘ as the fisherman and Band˘ Tamasabur˘ as the angel.
Yoshinoyama: a dance travel scene from the epic "Yoshitsune Senbon Zakura". Now in exile and disgrace, Yoshitsune has left his lover Shizuka in the safekeeping of his trusted retainer Tadanobu. But she is unaware that this Tadanobu is actually a magical fox who has disguised himself to be near the treasured drum that Shizuka carries, a drum made from the skins of his fox parents. Starring Nakamura Shid˘ as Tadanobu, with Band˘ Tamasabur˘ as Shizuka.

Source: Earphone Guide website
| | |
| --- | --- |
| Eirakukan (Toyooka) | |
Dates
5 ~ 10 November 2010 (Eirakukan ďkabuki)
Program

Chikagoro Kawara no Tatehiki (Horikawa)

Casting

Kataoka Ainosuke, Band˘ Takesabur˘, Kamimura Kichiya, Band˘ Shinsha, Nakamura Kazutar˘

Comments

This is the third Kabuki program at the Eirakukan, a renovated traditional theater built in the city of Toyooka (prefecture of Hy˘go).

Horikawa: This is a very rare performance of a play that was originally written for the puppet theatre. The courtesan Oshun and Denbŕ are lovers, but after Denbŕ ends up killing his rival in love, they decide that they must die together. They flee to her family home, where her blind mother teaches music and her older brother Yojir˘ is a performer with a trained monkey. Finally, moved by the depth of love between Oshun and Denbŕ, her mother and brother sadly agree that they have no choice but to die and in the final bittersweet moment, Yojir˘ says farewell with a cheerful monkey dance, an auspicious dance to celebrate the wedding of Oshun and Denbŕ. Starring Kamimura Kichiya as Oshun, Band˘ Shinsha as Denbŕ and Kataoka Ainosuke as Yojir˘.
K˘j˘: the close relationship between the actors and the audience is shown by these stage announcements, lavish ceremonies to commemorate various important events.
Michiyuki Hatsune no Tabi: a dance travel scene from the epic "Yoshitsune Senbon Zakura". Now in exile and disgrace, Yoshitsune has left his lover Shizuka in the safekeeping of his trusted retainer Tadanobu. But she is unaware that this Tadanobu is actually a magical fox who has disguised himself to be near the treasured drum that Shizuka carries, a drum made from the skins of his fox parents. Starring Kataoka Ainosuke as Tadanobu, with Nakamura Kazutar˘ as Shizuka and Band˘ Shinsha as Hayami no T˘ta.

Source: Earphone Guide website
| | |
| --- | --- |
| Misonoza (Nagoya) | |
| | |
| --- | --- |
| ďtsuka Museum of Art (Naruto) | |
Dates
13 ~ 14 November 2010 (Sistine Kabuki)
Program

Susanoo

Casting
Comments

Second edition of the Sistine Kabuki, a Kabuki program within the Sistine Hall of the ďtsuka Museum of Art, which is located in the city of Naruto (Tokushima prefecture). Inside this museum, there are more than 1,000 replicas of priceless masterpieces of Western art, from ancient murals to modern paintings, which are reproduced in ceramic to their original size. The Sistine Hall is of course a "reproduction" of the Vatican Sistine Chapel.

Susanoo: this drama is a rare example of a story from ancient Japanese mythology in a puppet play by Chikamatsu Monzaemon adapted for the Kabuki theater. As part of an annual ritual, Princess Inada has been chosen to be sacrificed to a fierce serpent that lives in the mountains of Izumo. The serpent arrives in the guise of a beautiful princess, but before it can attack it is attracted to eight jars full of sake. The jars are a trap planted by the god Susanoo, who confronts the beast in its true form as an eight-headed serpent, to save the princess. Starring Kamimura Kichiya, Band˘ Shinsha and Nakamura Kazutar˘ in the roles of Princess Iwanaga, Susanoo and Princess Inada.

Source: Earphone Guide website
| | |
| --- | --- |
| Shibuya-ku Bunka S˘g˘ Center ďwada (T˘ky˘) | |
| | |
| --- | --- |
| Dates | 27 November 2010 |
| Program | Shibuya Konn˘maru Densetsu |
| Casting | |
| Comments | A newly-created Kabuki dance to celebrate the opening of the Shibuya-ku Bunka S˘g˘ Center ďwada, a newly-built Cultural Center in the district of Shibuya in T˘ky˘, which opened the 21st of November 2010. |