Play title
Tsuta Momiji Utsunoya Tôge
Authors
Kawatake Shinshichi II
Shinoda Sasuke
Umezawa Sôroku
Nagawa Harusuke II
History

The drama "Tsuta Momiji Utsunoya Tôge", commonly called "Utsunoya Tôge" ("The Utsunoya Pass") or "Bun'ya Goroshi" ("The Murder of Bun'ya"), was premiered in the 9th lunar month of 1856 at the Ichimuraza, starring Ichikawa Kodanji IV (the blind masseur Bun'ya, the thief Niza) and Bandô Kamezô I (Itamiya Jûbê).

Structure

The original drama was in 5 acts and 12 scenes. A standard revival of this drama is usually made up of three acts and 6 scenes.

Key words
Koroshiba
Sewamono
Tôge
Zatô
Summary

This play is about the murder of Bun'ya, a blind masseur, by Itamiya Jûbê, once a samurai and now in need of money to give to his former lord. At an inn, the blind masseur and the merchant happen to stay together in the same room. The thief Nisa, who has been stalking Bun'ya for several days, sneaks into the room to steal the masseur. Unfortunately for him, Jûbê is not asleep and catches the robber. Hearing that the masseur is carrying a great sum of money, Jûbê at first hopes Bun'ya will lend it to him. Winning Bun'ya's confidence, Jûbê offers to accompany the masseur as far as the dangerous Utsunoya Pass. They travel together and, approaching the Utsunoya Pass, Jûbê begs to borrow the money but Bun'ya says he cannot because his sister sold herself to a brothel in order to raise the money, which will enable him to buy his official license as a masseur. Finally the merchant ends up killing the masseur and makes off with the money after having hidden Bun'ya's body. The murder was observed by the thief Nisa. After Bun'ya's death, Jûbê returns to the tavern he owns, but is haunted by Bun'ya's ghost and ends up strangling his own wife whose shape the ghost takes at one point. A year later Nisa turns up to blackmail Jûbê, but he too becomes another of Jûbê's victims, and on this grisly note the play ends.

This summary was made by Shôriya Aragorô using a text written by Jean Wilson (1999)

Trivia

In addition to Bun'ya, the leading actor of this drama also plays the role of the thief Nisa, deftly switching between them using hayagawari quick costume changes.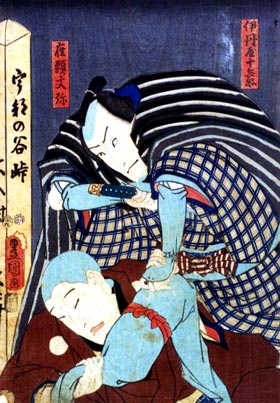 The actors Bandô Kamezô I and Ichikawa Kodanji IV playing the roles of Itamiya Jûbê and Bun'ya in the drama "Tsuta Momiji Utsunoya Tôge", which was staged in the 9th lunar month of 1856 at the Ichimuraza (print made by Utagawa Toyokuni III)