Line number: SHODAI (I)
Existence: ??? ~ 7th lunar month of 1695
Connection:
Son: Nanboku Sabu II
Nephew (?): Tsuruya Nanboku I
Career:
Before 1674: born in the city of Sakai in the province of Senshű. He is related to the Murayama clan, whose most famous member, Murayama Matasabur˘ I, founded the Murayamaza in Edo.
6th lunar month of 1674: first recorded performance, in Ky˘to at Ebisuya's theater, where he performs as a d˘kegata; his stage partners are Fujita Koheiji, Komai Sh˘zaemon, Imamura Kumenosuke, Fujita Minanoj˘, Kaneko Rokuemon, Nakajima Yaheita, It˘ Kodayű II, Tamagawa San'ya, Dekijima Tanomo and Kumamoto Bun'emon.
11th lunar month of 1683 ~ 1684: Sabu performs in ďsaka for the zamoto Araki Yojibŕ I; his yearly salary is 70 ry˘.
1st lunar month of 1688: Sabu's rank in the ďsaka hy˘banki, d˘kegata section, is j˘ (superior).
Spring 1695: Sabu's rank in the ďsaka hy˘banki, d˘kegata section, is j˘-j˘-kichi (superior - superior - excellent).
7th lunar month of 1695: Sabu dies in ďsaka.
Comments:
Nanboku Sabu I, who made all his career in Kamigata from the 1670s to the 1690s, was considered at the end of his career as an "old style" d˘kegata. According to the chronicles, the audience loved his facial appearance, the way he rolled his big eyes and his weird dancing.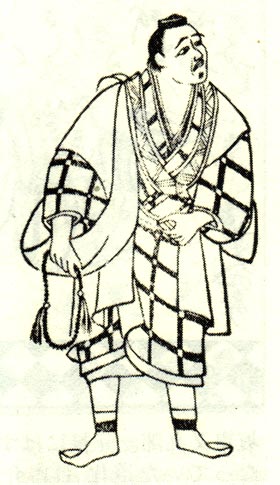 Nanboku Sabu I performing the role of a yamabushi priest (1693)