Play titles
Nazoraete Fujigane Soga
Kuruwa By˘shi Tegoto no ďgi
Hitokidori Hakone no Chigowake
Fűjibumi Medetakukashiku
Chirashigaki Ada-na Inochige
Authors
Tsuruya Nanboku IV
Sakurada Jisuke II
Segawa Jok˘ II [1]
History

Tsuruya Nanboku IV's new year sogamono drama "Iroeiri Otogi Z˘shi" was premiered in the 1st lunar month of 1816 at the Kawarasakiza [casting]. Two dance-dramas were staged in the first part (ichibanme) of this drama: the Nagauta-based dance "Kuruwa By˘shi Tegoto no ďgi" and the Tokiwazu-based dance "Hitokidori Hakone no Chigowake". The second part (nibanme) of this drama was entitled "Fűjibumi Medetakukashiku". It ended with an ˘giri which was a Tomimoto-based dance-drama entitled "Chirashigaki Ada-na Inochige".

Key words
Jidaimono
Kajiwara Genta Kagesue
Kajiwara Heiji Kagetaka
Kud˘ Saemon Suketsune
Nagauta
Nitta Tadatsune
Soga Gor˘ Tokimune
Soga Jűr˘ Sukenari
Sogamono
Tokiwazu
Tomimoto
Summary

Notes

[1] The others sakusha working for Tsuruya Nanboku IV were Tajima Konosuke I, Katsu Hy˘suke, Tsuchii Hy˘shichi I, Katsuura Shűz˘ and Matsushima Y˘suke II.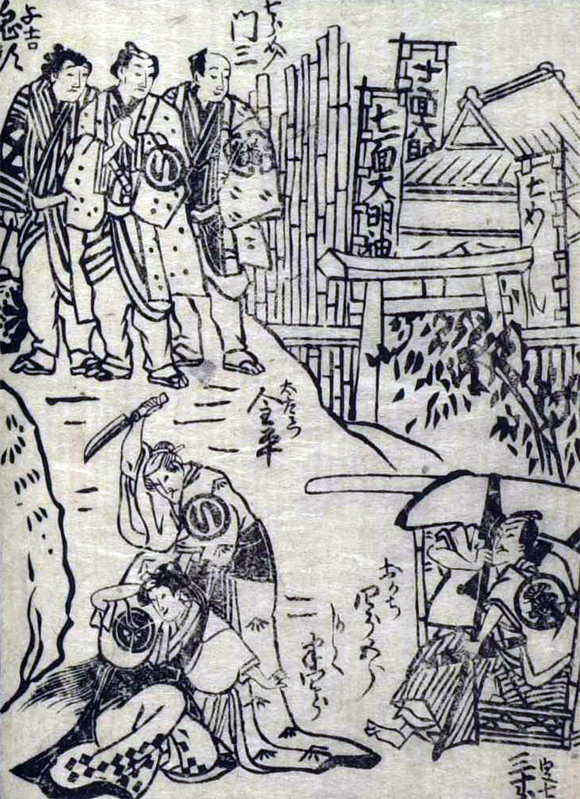 Illustration from an ehon banzuke for the staging of the drama "Nazoraete Fujigane Soga" in the 1st lunar month of 1816 at the Kawarasakiza.