| | |
| --- | --- |
| Sh˘chikuza (ďsaka) | |
| | |
| --- | --- |
| Shinbashi Enbuj˘ (T˘ky˘) | |
Dates
1 ~ 25 May 2011
MatinÚe
Evening

Ayame Yukata

Casting

Nakamura Kichiemon, Matsumoto K˘shir˘, Nakamura Baigyoku, Nakamura Shibajaku, Nakamura Fukusuke, Ichikawa Danshir˘, Nakamura Kinnosuke, Band˘ Yajűr˘, ďtani Tomoemon, Nakamura Karoku, Nakamura Kash˘, Ichikawa Komaz˘

Comments

Tengajaya: "Tengajaya" was first performed in 1781 in ďsaka, dramatizing a true event that occurred over a century earlier. It is in the classical vengeance play form, following the sufferings of the brothers Iori (Nakamura Baigyoku) and Genjir˘ (Nakamura Kinnosuke) as they search for T˘ma (Matsumoto K˘shir˘), the killer of their father. Iori first falls ill and then is wounded by the enemy and finally ends up living in a shack as a beggar where he is killed by the enemy. But the real reason for the continuing popularity of this is not due to the historical incident, which has long since been forgotten, nor because it is a vengeance play since there are other, much more popular vendetta plays. Originally the role of the servant Motoemon (Matsumoto K˘shir˘), a retainer of Iori's family who goes over to the enemy side was very small, but the actor ďtani Tomoemon IV transformed it into a brilliant, virtuoso role. At first Motoemon is supposed to guard his lord, but fails due to his weakness for drink. He promises his brother Yasuke (Band˘ Yajűr˘) to stop drinking, but is tricked by the enemy into getting dead drunk and during this time, T˘ma kills his lord. Motoemon is ready to kill himself to atone, but instead decides to go to the enemy side. There is no trick he will not stoop to, in order to turn things to his advantage. For example, Motoemon tells his brother (who is still loyal to Iori) that he has become blind due to illness, no doubt punishment for his evil arts, and asks for charity. But in fact, he soon sneaks in, kills his brother and wounds Iori, all in order to protect his new lord T˘ma. But in the end, Genjir˘ avenges his father's death with the help of former retainers of his father's clan.
Kagotsurube: one of the most sensational plays of late Kabuki, it shows a humble, pockmarked merchant from the country named Sano Jir˘zaemon (Nakamura Kichiemon). He is wealthy, but because of the way he looks, has never thought that it would be possible to have a woman. He and his servant go sightseeing in the Yoshiwara pleasure quarters and a chance look at top courtesan Yatsuhashi (Nakamura Fukusuke) who smiles at him, makes Jir˘zaemon fall in love. However, the pleasure quarters are full of intrigue, and on the eve of the day that Jir˘zaemon is to buy up Yatsuhashi's contract, her true love Einoj˘ (Nakamura Baigyoku) forces her to reject and humiliate Jir˘zaemon in the middle of the celebratory banquet. Jir˘zaemon seems to forgive her, but returns with the sword Kagotsurube to exact his revenge.
Ayame Yukata: this dance centers around the Boys' Festival which occurs in the beginning of May. It sings of the season of early summer in which the light, fragrant scenes and symbols of the Boys' Festival, such as the iris (ayame in Japanese), decorative samurai helmet, and iris sake. Featuring Nakamura Shibajaku, Nakamura Kinnosuke and Nakamura Kash˘.

Sources: Earphone Guide website
Nihon Buy˘ for "Ayame Yukata"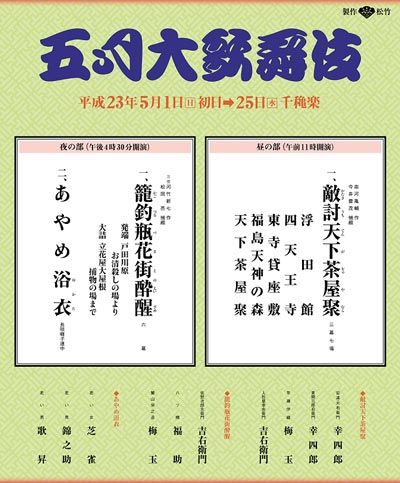 | | |
| --- | --- |
| Meijiza (T˘ky˘) | |
| | |
| --- | --- |
| National Theatre (T˘ky˘) | |
| | |
| --- | --- |
| Dates | 12 ~ 24 May 2011 (Zenshinza Gogatsu K˘en) |
| Program | T˘nasuya |
| Casting | |
| Comments | The Zenshinza celebrates its 80th anniversary. Takeda Haruz˘'s drama "Akiba Gongen Kaisen Banashi" is revived for this event. |