Stage names:
| | |
| --- | --- |
| Morita Kan'ya XIII | |
| Band˘ Mitahachi III | |
Guild: Kinojiya
Line number: J█SANDAIME (XIII)
Existence: 18 October 1885 ~ 16 June 1932
Connections:
Father: Morita Kan'ya XII
Brother: Band˘ Mitsugor˘ VII
Sister: Band˘ Tamasabur˘ III
Son: Band˘ K˘tar˘
Adopted son: Morita Kan'ya XIV
Grandsons: Band˘ Kichiya II, Band˘ Yajűr˘
Disciples: Band˘ San'emon, Band˘ Tsumanosuke, Band˘ Shinasaku
Career:
December 1890: he made his first appearance on stage, at the Shintomiza, where he received the name of Band˘ Mitahachi III and performed in the drama "Higuchi no Kanemitsu Sakaro no Aranami".
21 August 1897: his father Morita Kan'ya XII died.
November 1906: Band˘ Mitahachi III became nadai and took the name of Morita Kan'ya XIII at the Shintomiza, performing in the dance "Renjishi".
1909: the management of the Shintomiza was taken over by the Sh˘chiku Company.
October 1914: premiere at the Meijiza of Okamoto Kid˘'s drama "Soga Monogatari"; Kan'ya played the role of Soga Jűr˘ [casting].
1915: Kan'ya created and led the Bungeiza, a theater study group, which focused on new productions (Shinkabuki, modern theater) and also the adaptations of Western plays. The two others main actors were Ichikawa Ennosuke II and Nakamura T˘z˘ V.
28 ~ 30 June 1915: first program of the Bungeiza at the Imperial Theater. Then, the group stayed inactive up to 1918.
September 1918: premiere at the Ichimuraza of Okamura Shik˘'s dance-drama "Imohori Ch˘ja"; Kan'ya played the role of Sakigake Heima [casting].
July 1922: premiere at the Imperial Theater of Tanizaki Jun'ichir˘'s drama "Okuni to Gohei"; Kan'ya played the role of Tomonoj˘ [casting].
1 September 1923 (11:58 AM): T˘ky˘ was destroyed by a powerful earthquake called Kant˘ Daijishin, which killed more than 200,000 people and destroyed the Shintomiza.
February 1925: tenth and final program of the Bungeiza.
June 1925: premiere at the Shinbashi Enbuj˘ of Suzuki Senzabur˘'s drama "Ikite-iru Koheiji"; Kan'ya played the role of Kohata Koheiji [more details].
June 1929: premiere at the Imperial Theater of Tsubouchi Sh˘y˘'s dance-drama "Ry˘kan to Komori" [more details]; Kan'ya played the role of Ry˘kan.
July 1931: premiere in T˘ky˘ at the T˘ky˘ Gekij˘ of the play "Ippon Gatana Dohy˘ Iri", written by Hasegawa Shin; Kan'ya played the role of Tatsusabur˘ [casting].
January 1932: Kan'ya appeared on stage for the last time, at the Kabukiza, playing in the dramas "Na mo Tachibana Homare no Ishikiri" and "Kozaru Shichinosuke".
Comments:
Morita Kan'ya XIII was the first in this line to be an actor and not a zamoto. He was a talented tachiyaku excelling as a wagotoshi. He was endowed with a great voice and an amazing memory. He was open to new forms of theaters and spent a lot of time and energy in the creations of new dramas.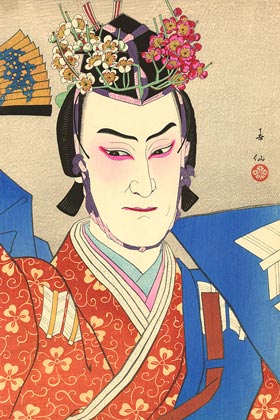 Morita Kan'ya XIII playing the role of Kajiwara Genta Kagesue
in the drama "Genta Kand˘"
(print made by Natori Shunsen in 1928)
Print courtesy of Aoi Gallery (all rights reserved)
The Band˘ Mitahachi line of actors
The Morita Kan'ya line of actors and theater managers