| | |
| --- | --- |
| Sh˘chikuza (ďsaka) | |
| | |
| --- | --- |
| National Theatre (T˘ky˘) | |
Dates
3 ~ 27 January 2011 (Hatsuharu ďkabuki)
Early Spring Grand Kabuki
Program
Casting

Onoe Kikugor˘, Nakamura Tokiz˘, Onoe Kikunosuke, Onoe Sh˘roku

Comments

Revival at the National Theatre of Fukumori Kyűsuke I's long-forgotten kaomise drama "Shitenn˘ Oedo no Kaburaya", which was premiered in the 11th lunar month of 1815 in Edo at the Nakamuraza.

Shitenn˘ Oedo no Kaburaya: in the Edo period, actors were under contract to the Kabuki theaters for one year and the year began in November. This month of performances was called the kaomise or "face showing" production and always featured a newly written play which was a kind of loosely structured pageant to show off the new stars. For a number of years, the National Theatre has featured revivals of long-neglected plays for the New Years production. These plays have had scripts newly prepared and have been arranged to entertain modern audiences. January 2011 features a play on a grand scale, a historical spectacle combining larger-than-life heroes, beautiful women and leisurely comedy to bring the golden age of Kabuki back to life in the middle of Heisei Japan. It will feature festivities to celebrate the New Year and to begin the year with a ceremonial presentation of Kabuki theater. Kaomise plays had a number of conventions, the most important of which was that it had to be a dramatization of one of a limited number of story arcs. This one features the world of the demon quelling general Minamoto no Yorimitsu, also known as Raik˘ and his famous four warriors (the famous shitenn˘). It shows Raik˘ and his men confronting Yoshikado, the heir to the mysterious pretender to the imperial throne, Taira no Masakado in a play full of spectacle and marvelous incident. Starring Onoe Kikugor˘, Onoe Sh˘roku, Onoe Kikunosuke, Nakamura Tokiz˘ and other top stars of Kabuki.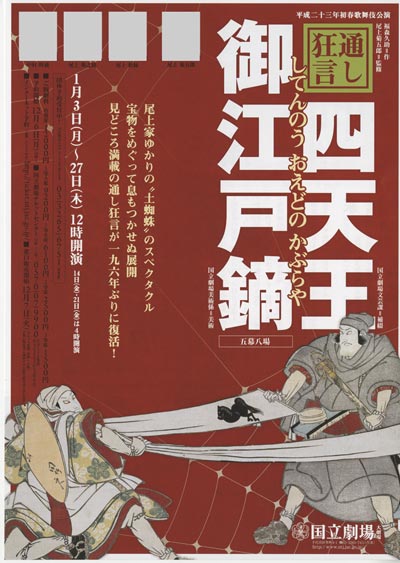 | | |
| --- | --- |
| Shinbashi Enbuj˘ (T˘ky˘) | |
Dates
2 ~ 26 January 2011 (Kotobuki Hatsuharu ďkabuki)
Congratulation Early Spring Grand Kabuki
MatinÚe

Gohiiki Kanjinch˘ (Ataka no Seki)

Imoseyama Onna Teikin
(Mikasayama Goten)

Evening

Genpei Nunobiki no Taki
(Sanemori Monogatari)

Casting

Ichikawa Danjűr˘, Nakamura Kichiemon, Band˘ Mitsugor˘, Nakamura Shikan, Nakamura Tomijűr˘, Nakamura Hashinosuke, Nakamura Shibajaku, Nakamura Baigyoku, Nakamura Kaishun, Nakamura Fukusuke, Nakamura Kinnosuke, Ichikawa Danshir˘, Ichikawa Sadanji, Band˘ Yajűr˘, Nakamura Karoku, Nakamura Kash˘, Nakamura T˘z˘, Nakamura Takanosuke

Comments

Source: Earphone Guide website
| | |
| --- | --- |
| Le Theatre Ginza (T˘ky˘) | |
Dates
2 ~ 20 January 2011 (Band˘ Tamasabur˘ Tokubetsu K˘en)
Band˘ Tamasabur˘ Special Performances
Program

Dan no Ura Kabuto Gunki (Akoya)

Casting
Comments

Akoya: the courtesan Akoya is the wife of the fugitive general Kagekiyo and has been captured and will be tortured until she reveals his whereabouts. But she claims not to know. The wise Shigetada (Nakamura Shid˘) puts Akoya to a test, all the time hindered by his companion, the humorous villain Iwanaga (Ichikawa En'ya). Shigetada forces Akoya to play several instruments since the slightest disturbance in the sound would indicate that she is lying. A showpiece for an onnagata who must actually play the koto, the bowed kokyű and the shamisen flawlessly as part of the drama. Starring Band˘ Tamasabur˘ as Akoya.
Onna Date: Band˘ Tamasabur˘ stars as a woman in the pleasure quarters who swaggers and fights in the finest gallant style but who has a delicate sense of femininity as well.

Source: Earphone Guide website
| | |
| --- | --- |
| Minamiza (Ky˘to) | |

Dates
3 ~ 23 January 2011 (Zenshinza K˘en)
Program
Casting

Nakamura Umenosuke, Arashi Keishi, Kawarasaki Kunitar˘, Fujikawa Yanosuke, Arashi Yoshisabur˘, Yamazaki Tatsusabur˘, Nakamura Seinosuke, Anegawa Shinnosuke, Ikushima Kigor˘, Matsunami Kihachir˘

Comments

Arashi Yoshisabur˘ VII celebrates his shűmei in Ky˘to at the Minamiza, playing the role of Yosabur˘ in the drama "Kirare Otomi":

K˘j˘: the close relationship between the actors and the audience is shown by these stage announcements, lavish ceremonies to commemorate various important events. In this case, all the Zenshinza stars of the cast assemble to celebrate the shűmei of Arashi Yoshisabur˘ VII.
Kirare Otomi: there are many plays in Kabuki that take some famous classic and change it around so that a very masculine character becomes a female character with both the strength of the original and a feminine delicacy and grace. The story of scarfaced Yosabur˘ is popular in Kabuki. Yosabur˘ is the handsome young son of a wealthy family, but he falls in love with Otomi, the mistress of a gang boss and ends up being cut up and tossed overboard at sea, together with Otomi. He survives, terribly scarred, and becomes a criminal. He goes to blackmail a woman who seems to be kept by a wealthy merchant only to discover that it is Otomi. In this version, it is Otomi that is scarred and who becomes a blackmailer. Starring Kawarasaki Kunitar˘ as Otomi, Nakamura Umenosuke as the gang boss and Arashi Yoshisabur˘ as Yosabur˘.

Source: Earphone Guide website