2 shows in T˘ky˘ (Shinbashi Enbuj˘), 2 shows in Ky˘to (Minamiza) and 2 on Shikoku island (Kanamaruza)!
Ichikawa Danjűr˘, Onoe Kikugor˘, Sakata T˘jűr˘, Band˘ Mitsugor˘, Nakamura Tokiz˘, Kataoka Gat˘, Nakamura Kanjaku, Nakamura Senjaku, Onoe Kikunosuke and Nakamura Kinnosuke perform at the Shinbashi Enbuj˘!
Matsumoto K˘shir˘, Nakamura Shibajaku, Nakamura Baigyoku, Ichikawa Somegor˘ and Nakamura T˘z˘ perform at the Kanamaruza!
Band˘ Tamasabur˘ and Nakamura Shid˘ perform at the Minamiza!
| | |
| --- | --- |
| Shinbashi Enbuj˘ (T˘ky˘) | |
Dates
1 ~ 25 April 2011 (Shigatsu ďkabuki)
April Grand Kabuki
MatinÚe

Oedo Miyage

Kiichi H˘gen Sanryaku no Maki
(Ichij˘ ďkura Monogatari)

Evening

Ehon Taik˘ki (Amagasaki Kankyo)

Casting

Ichikawa Danjűr˘, Onoe Kikugor˘, Sakata T˘jűr˘, Band˘ Mitsugor˘, Nakamura Tokiz˘, Kataoka Gat˘, Nakamura Kanjaku, Nakamura Senjaku, Onoe Kikunosuke, Nakamura Kinnosuke, Nakamura Kaishun, Ichikawa Sadanji, Kataoka Hidetar˘, Kataoka Takatar˘, Onoe Sh˘roku

Comments
| | |
| --- | --- |
| Kanamaruza (Konpira) | |
| | |
| --- | --- |
| Dates | 9 ~ 24 April 2011 (Shikoku Konpira Kabuki ďshibai) |
| MatinÚe | Ichi-no-Tani Futaba Gunki (Kumagai Jin'ya) |
| Evening | Waki Noboru Mizu-ni Koi Taki (Koi Tsukami) |
| Casting | Matsumoto K˘shir˘, Nakamura Shibajaku, Nakamura Baigyoku, Ichikawa Somegor˘, Nakamura T˘z˘, Ichikawa Komaz˘, Ichikawa Monnosuke, Ichikawa En'ya, Matsumoto Kingo, Nakamura Matsue |
| Comments | 27th edition of the Spring Kabuki performance Shikoku Konpira Kabuki ďshibai at the Kanamaruza on Shikoku island. |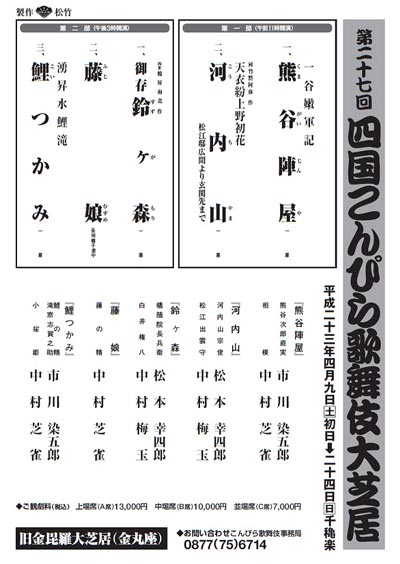 | | |
| --- | --- |
| Minamiza (Ky˘to) | |

Dates
3 ~ 17 April 2011 (Band˘ Tamasabur˘ Tokubetsu Buy˘ K˘en)
Band˘ Tamasabur˘ Special Dance Performances
Program

Shinobi Yoru Koi no Kusemono (Masakado)

Casting
Comments

Masakado: after the death of Masakado, the great pretender to the imperial throne, the only one to carry on his cause is his daughter, Takiyasha (Band˘ Tamasabur˘). She appears mysteriously in the ruins of her father's palace and tries to seduce Mitsukuni (Nakamura Shid˘), a warrior sent to investigate mysterious happenings at the mansion. In dance Takiyasha tells of how she fell in love with Mitsukuni, then, also in dance, Mitsukuni tells the story of how the traitor Masakado was killed. Takiyasha breaks down in tears, revealing her true identity. After a dance-like fight, the mansion collapses and Takiyasha poses on the roof with the banner of her clan.
Nihon Furisode Hajime: this dance is a rare example of a story from ancient Japanese mythology in a puppet play by Chikamatsu Monzaemon adapted for the Kabuki theater. As part of an annual ritual, Princess Inada has been chosen to be sacrificed to a fierce serpent that lives in the mountains of Izumo. The serpent arrives in the guise of a beautiful princess, but before it can attack it is attracted to eight jars full of sake. The jars are a trap planted by the god Susanoo, who confronts the beast in its true form as an eight-headed serpent, to save the princess. Starring Band˘ Tamasabur˘ as Princess Iwanaga, in reality the serpent. Featuring also Nakamura Shid˘ in the role of Susanoo.

Source: Earphone Guide website
| | |
| --- | --- |
| Minamiza (Ky˘to) | |

Dates
22 ~ 27 April 2011 (Kabuki Kansh˘ Ky˘shitsu)
Kabuki Appreciation Class
Program
Casting

Kamimura Kichiya, Kataoka Kamez˘, Kataoka Matsujir˘, Kataoka Rikiya, Kamimura Kichitar˘

Comments

19th edition of a pedagogical show in Ky˘to combining explanation for beginners (done by the professional storyteller Katsura Kujaku) and the dance-drama "Tsuri Onna".

Tsuri Onna: a dance based on a classical Ky˘gen farce. A master longs for a wife and is told by the gods in a dream to go fishing for one. He is united with a beautiful princess. His servant Tar˘kaja (Kataoka Kamez˘) wants a wife as well, but when he goes fishing, is stuck with a very surprising companion, played by Kamimura Kichiya in a rare, humorous, ugly woman role.

Source: Earphone Guide website