Play title
Yuya
Author
Mishima Yukio
History

Mishima Yukio's dance-drama "Yuya" was premiered in February 1955 at the Kabukiza [casting]. It was based on the eponymous Nô drama "Yuya" and it was staged within the program of the 2nd edition of the Tsubomikai, a study group led by Nakamura Utaemon VI [more details].

Structure

The dance-drama "Yuya" is made up of two scenes.

Key words
Hanami
Jijo
Kannon
Kiyomizudera
Mishima Kabuki
Nagauta
Nô
Nôtorimono
Shosagoto
Sôjô
Taira Munemori
Tôtômi
Tsubomikai
Yakata
Yuya (Nô)
Summary

Munemori Yakata
At Munemori's Mansion

Taira Munemori has been dozing. He wakes up and calls on his jijo Sawarabi and Wakana to perform a flower-viewing dance to revive him after his nap. Munemori then decides to go and view the cherry blossoms (hanami) for himself and he calls for Yuya, a woman from the province of Tôtômi at his service in his mansion, to accompany him to the Kiyomizu Temple.

Munemori and the jijo withdraw. Asagao, a girl from Yuya's home village, arrives. She explains to one of the maids that she has come to fetch Yuya whose mother is desperately ill. Yuya enters delighted to see Asagao but is immediately informed that she must accompany Munemori on his excursion to the Kiyomizu Temple. Yuya, preoccupied with the letter from her mother that Asagao has brought, gives little attention to Munemori's plan.

Munemori enters impatient to leave but when Yuya shows him the letter he bids her read it to him. The letter is a plea from her mother for her daughter to return before it is too late. Yuya is much distressed but the selfish Munemori orders her to accompany him to enjoy the cherry blossoms at the Kiyomizu Temple.

Kiyomizudera
At the Kiyomizu Temple

Yuya is offering prayers to Kannon, the Buddhist Goddess of Mercy to whom the temple is dedicated. Taira Munemori calls for Yuya, who enters, as do Tanshin, the sôjô of the temple, and an acolyte. The priests begin to recite sutras on behalf of Yuya.

Meanwhile Munemori is intent on enjoying himself. He dances and tells Yuya to do the same. At the height of the dance, however, Munemori relents and grants Yuya leave to return home to meet her mother. Yuya interprets this as the result of her prayers to Kannon and leaves joyfully before Munemori changes his mind.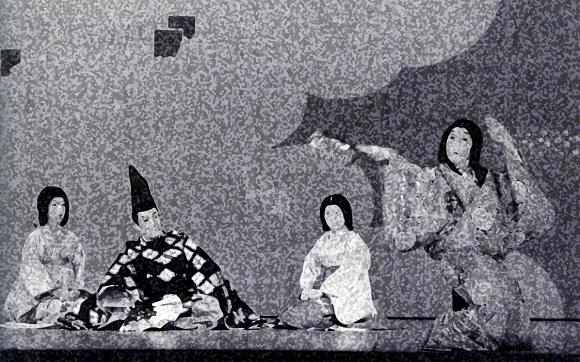 Yuya dancing for Taira no Munemori (a digital painting made by Shôriya Araemon in 2020)