Dance title
Kuruwa Sanbas˘
Authors
???
History

The Nagauta song was created in the 9th lunar month of 1826. It was staged for the first time on Kabuki stages, using the title "Kuruwa Sanbas˘", in January 1960 at the Kabukiza. Was it a premiere or a revival? The question has to be studied.

Key words
Keisei
Kuruwa
Nagauta
Okina
Okina (N˘)
Sanbas˘
Sanbas˘mono
Senzai
Shinz˘
Shosagoto
Taiko Mochi
Yoshiwara
Summary

"Kuruwa Sanbas˘", a variation of the sanbas˘ dance, is famous for discarding the solemnity of the original dance. Instead of the usual dignified N˘ stage background, the stage represents the Miuraya, a reputed pleasure house in the Yoshiwara pleasure quarter, and the three characters are changed so that the okina is represented by the beautiful keisei Chitosedayű, the senzai by the shinz˘ Umezato, the sanbas˘ by the taiko mochi T˘chű. The words of the Nagauta song too are all a parody of the original.

First, the okina's dance is performed by Chitosedayű, who starts out in a pseudo-solemn manner imitating the authentic okina. She suddenly reverts to her own courtesan character in the middle of her performance, describing in her dance and narrative the life and love affairs of a keisei in the Yoshiwara pleasure quarters.

The other two characters, the shinz˘ and the taiko mochi, join the keisei in the dance, expressing sensual pleasures and the joy of the courtesan receiving her lover. Replacing the usual prayer for peace and prosperity for the land, this irreverently lively dance ends with a wish for the never-ending prosperity of the Yoshiwara pleasure quarter.

This summary would have not been possible without the help of Sekidobashi Sakura!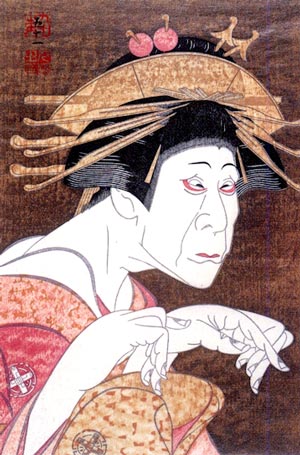 The actor Nakamura Utaemon VI playing the role of the keisei Chitosedayű in the dance "Kuruwa Sanbas˘" (print made by Tsuruya K˘kei)