Play title
Igagoe D˘chű Sugoroku
Igagoe Norikake Gappa
Authors
Chikamatsu Hanji, Chikamatsu Kasaku ("Igagoe D˘chű Sugoroku")
Nagawa Kamesuke I ("Igagoe Norikake Gappa")
History

The play "Igagoe D˘chű Sugoroku" was originally written for the puppet theater (Bunraku) and staged for the first time in the 4th lunar month of 1783 in ďsaka at the Takemotoza. The authors drew their inspiration from Nagawa Kamesuke I's successful drama "Igagoe Norikake Gappa", which was directly written for Kabuki and was staged for the first time in the 12th lunar month of 1776 in ďsaka at the Naka no Shibai [casting]. "Igagoe D˘chű Sugoroku" was adapted for Kabuki the same year and staged for the first time in the 9th lunar month of 1783 in ďsaka at the Naka no Shibai [casting].

This play is based on the famous Igagoe vendetta, which took place in 1634. When it was dramatized, the names and details, and even the era were changed because of censorship by the ruling Tokugawa Shogunate:

Structure

"Igagoe D˘chű Sugoroku" was made up of 10 acts. "Engakuji" was the third act.

Key words
Adauchi
Engakuji
Gidayű Ky˘gen
Giri/Ninj˘
Gofukuya
Igagoemono
Jidaimono
Kago
Masamune
Shisha
Sandai Adauchi
T˘kaid˘
Summary

In order to induce Sawai Matagor˘ to surrender himself, Lord Uesugi holds Matagor˘'s mother Narumi in hostage. Matagor˘ confines himself to the Engakuji Temple in Kamakura and is protected by his cousin Sawai J˘gor˘ and several other vassals of the Sh˘gun who are antagonistic to Lord Uesugi. J˘gor˘ has asked Matagor˘ to steal the Masamune sword from Wada Yukie because, if it had remained in Yukie's possession, Lord Uesugi would certainly have taken it from him and presented it to the Sh˘gun so as to make him more powerful in the shogunate government. J˘gor˘ has sent a letter to Sasaki Tan'emon, the emissary (shisha) of Lord Uesugi, proposing to make Matagor˘ surrender himself if his mother (and J˘gor˘'s aunt) Narumi is released and the Masamune sword is given to him. Tan'emon has agreed to comply with J˘gor˘'s request.

J˘gor˘ is planning to recover Matagor˘ by force soon after he is carried away by Tan'emon and his men. In fact he has even made an arrangement to make Matagor˘ escape to Sagara in Kyűshű with the help of Gofukuya Jűbŕ, a draper, who is expected to act as his guide. J˘gor˘ calls Jűbŕ, and hands to him a seal box containing a miraculous medicine which can cure a wound. The medicine is to be used in case Matagor˘ is attacked and wounded during his trip.

J˘gor˘ turns over Matagor˘ to Tan'emon in exchange for the sword and the release of Narumi. Narumi, who is ashamed of his son's outrageous behavior, deeply self-arms with the Masamune sword, wishing to commit suicide as a substitute for Matagor˘ and hoping her son should not be handed over.

J˘gor˘'s men soon recovers Matagor˘ by attacking Tan'emon and his men. Tan'emon is seriously wounded. Meanwhile, the evil Matagor˘ successfully flees from the precincts of the Engakuji Temple. Wada Shizuma and his retainer Ikezoe Magohachi arrive at the temple to help Tan'emon but Shizuma too is wounded by J˘gor˘'s retainers. Out of despair Shizuma attempts to commit suicide but is dissuaded by Tan'emon, who encourages him, saying that the precious sword was not in fact taken away. It was a false Masamune sword that Tan'emon handed to J˘gor˘. Taking the precious sword from the palanquin (kago) in which he has concealed it, Tan'emon hands it to Shizuma, advising him to avenge the death of his father with the help of his brother-in-law, Karaki Masaemon. Tan'emon and Narumi die together, giving the coup de grÔce to each other.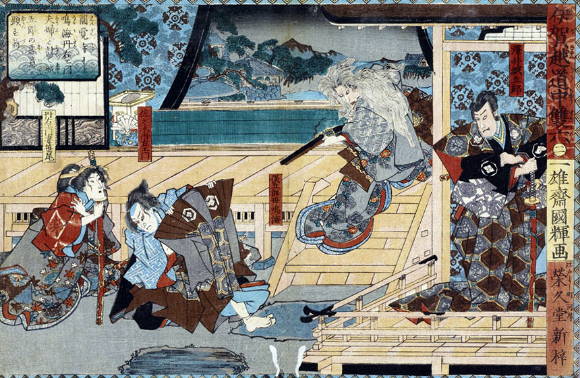 The "Engakuji" scene of the drama "Igagoe D˘chű Sugoroku" in a print made by Utagawa Kuniteru I around 1850