Play title
Tsuki no Kao Monaka no Natorigusa
Oniji Hy˘shimai
Authors
Kineya Sh˘jir˘ I (music)
Nishikawa Senz˘ II (choreography)
History

The Nagauta-based dance-drama "Tsuki no Kao Monaka no Natorigusa" was premiered in the 8th lunar month of 1793 at the Kawarasakiza [casting]. It was revived and entitled "Oniji Hy˘shimai" (Oniji came from the actor ďtani Oniji III, who played the leading male role of this dance-drama for the first time) in February 1922 at the Imperial Theater during the first gala of the Hagoromokai [more details]. It became a classic dance-drama for the Band˘ Mitsugor˘ line of actors.

"Oniji Hy˘shimai" is rarely-staged on Kabuki stages nowadays; since the end of World War II, we've found only 5 records of performances in ˘shibai between 1950 and 2002 (we did not list the Buy˘ performances):

Key words
Hikinuki
Hy˘shimai
Kudoki
Nagauta
Okabe Rokuyata
Okabe Tadasumi
Oniji
Shiraby˘shi
Shosagoto
Tachimawari
Summary

The story of this dance-drama is about a woodcutter and a shiraby˘shi dancer named Matsu-no-Mae. They meet on a mountain road. The woodcutter, who is in reality the warrior Osada Tar˘ Kanemitsu, and the shiraby˘shi dancer, who is in reality the daughter of Okabe Rokuyata Tadasumi, struggle with each other for the possession of a valuable flute, which is named Aoba. The plot is related to the long-forgotten drama "Hime Komatsu Ne-no-Hi no Asobi" but it has no incidence on this pleasant and beautiful flowing dance-drama. Matsu-no-Mae pretends to seduce Osada Tar˘. Getting closer to him in her seduction game, she tries to steal the flute, which he carries with him. The highlights of this dance-drama are the seduction scene (Matsu-no-Mae's kudoki), the spectacular hikinuki of Osada Tar˘ followed by the closing dance section, which symbolizes the fight for the flute (tachimawari).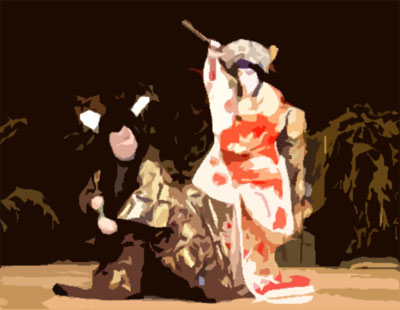 Osada Tar˘ (left) and Matsu-no-Mae (right, holding the flute) in a digital painting made by Sh˘riya Araemon in 2014