Play title
Tenshu Monogatari
Author
Izumi Ky˘ka
History

The drama "Tenshu Monogatari" was premiered in October 1951 at the Shinbashi Enbuj˘ by a Shinpa troupe. It was staged for the first time with Kabuki actors in February 1955 at the Kabukiza [casting]. It was staged within the program of the 2nd edition of the Tsubomikai, a study group led by Nakamura Utaemon VI [more details].

Structure

"Tenshu Monogatari" is made up of 1 act. It lasts between 01:20 and 01:50 depending on the production.

Key words
Himeji-j˘
Shinkabuki
Tsubomikai
Summary

Tomihime [1] is a fairy princess who lives in a magical world hovering over the White Heron Castle of Himeji, guarding the sacred carved lion head atop the castle. Tomihime and her attendants observe what is happening in the world below, and go for outings riding white clouds. One afternoon another fairy princess, Kamehime [2], flies in from Lake Inawashiro in the far north with her retinue of hobgoblins. After a pleasant visit, Tomihime takes a white falcon from the castle mews to give Kamehime as a present.

Sitting by the lion head after dark, Tomihime is surprised by the handsome Zushonosuke, a young falconer serving the lord of the castle, Takeda Harima-no-Kami, who has dared to come alone up the forbidden tower. Zushonosuke tells Tomihime that he has been ordered by his lord to look for the lost falcon and report what he finds on top of the castle.

The fairy princess sends the young man back downstairs, with a warning not to return, but Zushonosuke is waylaid in the dark by monsters and has to go back to ask for a light. Tomihime has now fallen in love with him, and tries to persuade him to stay, but, moved by duty, Zushonosuke chooses to go back to the world below. Tomihime then gives him a valuable helmet she has stolen from Harima-no-Kami so that he can present it to his master as a proof of what he has seen.

Instead, Harima-no-Kami accuses Zushonosuke of stealing the helmet himself, so Zushonosuke soon climbs the tower for the third time, this time to ask Tomihime to kill him, saying he would rather be killed by her than by Harima-no-Kami's soldiers.

Eager to save Zushonosuke, Tomihime hides with him under a cloth covering the magic lion head. When the soldiers pierce the eyes of the lion head with spears, Zushonosuke and Tomihime are blinded, but when the old sculptor T˘roku appears and repairs the lion's eyes with his chisel they regain their sight and live happily ever after.

Source: Sasaguchi Rei

Trivia

"Tenshu Monogatari" was released as a movie in 1995, starring Band˘ Tamasabur˘ and Shishido Kai in the roles of Princess Tomi and Zushonosuke. This movie was directed by Band˘ Tamasabur˘ himself.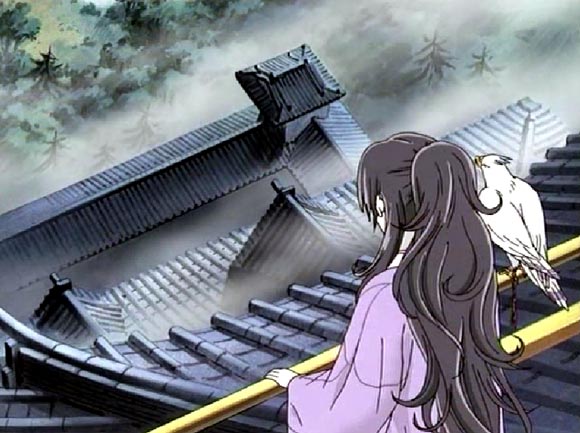 Tenshu Monogatari (anime version)