Dance title
Niwaka Jishi
Authors
Kineya Rokusaburô IV (music)
History

The music for "Niwaka Jishi" was written by Kineya Rokusaburô IV in the 10th lunar month of 1834. The dance was based on "Aioi Jishi".

Key words
Shosagoto
Nagauta
Yoshiwara
Shishi
Summary

The "Niwaka Lion" is based on the "Aioi Jishi" but the verses have been changed to depict the various scenes of the Edo Yoshiwara District. From the end of the Edo period to the beginning of the Meiji Era, there was a tradition in the Yoshiwara District of holding a Niwaka Festival every September. Various Geisha and drummers would improvise songs and dances at this Niwaka Festival. Dances that were improvised at this festival that are still performed today. It is said that the Fourth Generation Kineya Rokusaburô, who spent much of his time in the Yoshiwara District, wrote this song and changed the kanji for "Niwaka"to mean quick-change or impromtpu. This is a classic piece rich with variety and is filled with the mood of the Yoshiwara District.

Source: Nihon Buyô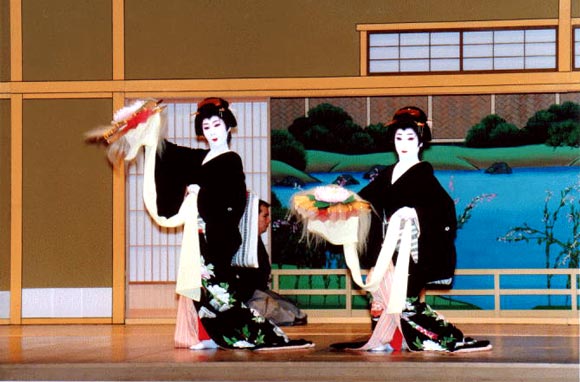 Two Buyô dancers performing "Niwaka Jishi"