Dance title
Mitsumen Komori
Hana ni Chô Magaki no Ukareme
Authors
Tsuuchi Jihê IV (lyrics)
Namisaki Tokuji III (music)
Nishikawa Senzô IV (choreography)
History

The 4-role hengemono "Hana ni Chô Magaki no Ukareme" was premiered in the 9th lunar month of 1829 at the Kawarasakiza [more details]. All the 4 roles are performed by the young star Segawa Kikunojô V. The 2nd role, the komori, originally staged with Nagauta and Tomimoto musical ensembles, survived and became a Tokiwazu-based dance, which was entitled "Mitsumen Komori" (The Nursemaid with 3 Masks).

Length

Around 19 minutes.

Key words
Ebisu
Komori
Men
Shosagoto
Tokiwazu
Summary

A nursemaid is on her way home from a shrine festival, carrying a baby, and also three masks tied to a branch, which she bought at a festival. As it is such a beautiful spring day, she decides to play under the full-blown cherry blossoms. After putting the baby to sleep, she collects flower petals and enjoys bouncing a ball. But the baby starts to cry. She tries to lull the crying baby to sleep with a story of Okame. Okame is a young girl who performs a dance with a bell for a shrine festival. She encounters Ebisu, the god of good fortune, who in high spirits with wine makes an overture. Okame and Ebisu fight after she tells him she is marrying someone else. Meanwhile, at a nearby shrine, Okame's other suitor Hyottoko, a happy man, prays that his love for Okame is fulfilled.

Source: dancejapan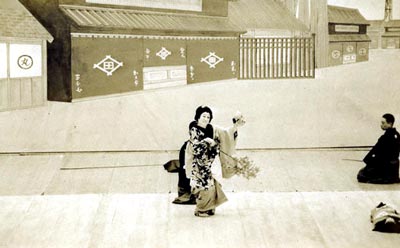 "Mitsumen Komori"