Stage names:
| | |
| --- | --- |
| Nakamura Shirogor˘ VII | |
| Nakamura Seigor˘ III | |
| Nakamura Nakasabur˘ | |
| Nakamura Takao | |
Real name: Ueda Takao
Guild: Nakamuraya
Line number: SHICHIDAIME (VII)
Existence: 6 February 1931 ~ 22 April 2007
Connections:
Masters: Nakamura Kanzabur˘ XVIII, Nakamura Kanzabur˘ XVII
Career:
April 1948: he becomes disciple of Nakamura Moshio IV and makes his first stage appearance, at the Minamiza, where he receives the name of Nakamura Takao and plays a bonze role in the dance "Kisen".
January 1950: his master takes the prestigious name of Nakamura Kanzabur˘ XVII at the T˘ky˘ Gekij˘; Nakamura Takao takes the name of Nakamura Nakasabur˘, playing a soldier role in the drama "Kinkakuji".
July 1964: he becomes nadai and takes the name of Nakamura Seigor˘ III at the Kabukiza, playing the role of Outa in the drama "Komochi Yamanba".
April 1976: Nakamura Seigor˘ III takes the name of Nakamura Shirogor˘ VII at the Kabukiza, playing the roles of a kumosuke and a taiko mochi in the dramas "Suzu-ga-Mori" and "Iya Sakae Shibai no Nigiwai".
July 1981: revival at the Kabukiza of Tsuruya Nanboku IV's drama "Hitori Tabi Gojűsan Tsugi"; Shirogor˘ plays the role of Yajirobŕ [casting].
April 2007: Shirogor˘ appears on stage for the last time, at the Kabukiza where he plays the roles of the sh˘ya Taroemon and Iwagami Tenz˘ in the dramas "Sanemori Monogatari" and "Sakanaya S˘gor˘"; he falls ill the 11th of April and has to be replaced. He dies in T˘ky˘ the 22nd of April 2007.
Comments:
Nakamura Shirogor˘ VII was a talented supporting tachiyaku actor and a tateshi. He often performed supporting roles in duo with Nakamura Genzaemon II. One of his best roles was ďshima Sagaemon in the drama "Natsu Matsuri".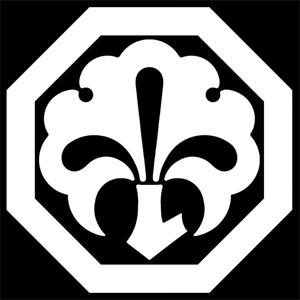 The mon of Nakamura Shirogor˘ VII (the ginkgo tree)
The Nakamura Shirogor˘ line of actors