Stage name:
| | |
| --- | --- |
| Kokon Shinzaemon | |
Existence: 1637 ~ 1722 (?)
Connection:
Disciple: Kokon Uheiji
Career:
1670s: he started his career in Edo, performing under the name of Kokon Shinzaemon as a wakashugata.
8th lunar month of 1687: Shinzaemon, along with Band˘ Matatar˘ I, Takimoto Kinnosuke, Takimoto Kingo, Akashi Sennosuke, Murayama Manzabur˘, Hanamura Kinue, Yamazaki Kodayű, Katayama Shinz˘, Sakurai Kaheiji and others, was invited to perform at the Edo mansion of the daimy˘ Matsudaira Yamato-no-Kami (the kami of the Yamato province).
1691: Shinzaemon played in Ky˘to the role of Iga no Heinai Saemon in the drama "Ichi-no-Tani Sakaotoshi", which was produced by Yamatoya Jinbŕ II.
2nd lunar month of 1695: Shinzaemon was recorded in the hy˘banki "Yakusha ďkagami", tachiyaku section. His rank was naka-no-j˘ (superior in the middle class).
1696: Shinzaemon played in Ky˘to the role of the servant Sansuke in the drama "Daizassho Ise no Oshiroi".
1697: Shinzaemon performed as a tachiyaku in ďsaka at ďsaka Tazaemon's theater, with the troupe led by Araki Yojibŕ I; his stage partners were Mihara Jűdayű I, Kanazawa Goheiji, Katsuyama ďhashi, Kamogawa Noshio I, Fujii Hachijűr˘, Takashima Onoe, Dekishima Kosabur˘, Yamamoto Kantar˘ I, Iwakura Man'emon, Iwamatsu Kizaemon and Takeshima Shichisabur˘.
1st lunar month of 1702: premiere in Ky˘to at Miyako Mandayű's theater of Chikamatsu Monzaemon's drama "Keisei Mibu Dainenbutsu", which was produced by Shinzaemon; he played the role of Tokuemon.
1st lunar month of 1706: Shinzaemon played in Ky˘to at Kameya's theater the role of the send˘ Funagi Gengor˘ in the new year drama "Keisei Nezamegaseki".
11th lunar month of 1718: Shinzaemon worked as a zamoto in ďsaka at the Kita no Shinchi Shibai, producing the kaomise drama "In'y˘ Inui no Machi-zukuri", in which he played the role of Tokubŕ.
11th lunar month of 1721: Shinzaemon performed as an oyajigata in Ky˘to at Hoteiya Umenoj˘'s theater in the kaomise drama "Banshiki Kogane no Miyako", which was produced by Ogino Yaegiri I.
1st lunar month of 1722: Shinzaemon's rank in the Ky˘to hy˘banki, oyajigata section, was j˘ (superior) [visual]. No record afterwards.
Comments:
Kokon Shinzaemon made a long career, started in Edo during the 1670s and continued in Kamigata from the beginning of the 1690s to the beginning of the 1720s. He was a tachiyaku actor, occasionally a zamoto and an oyajigata in his latter years. He most likely died in 1722. His most original feature was his stage name, Kokon, which was not a classic family name like Nakamura or Ichikawa, but a word meaning "Past and Present".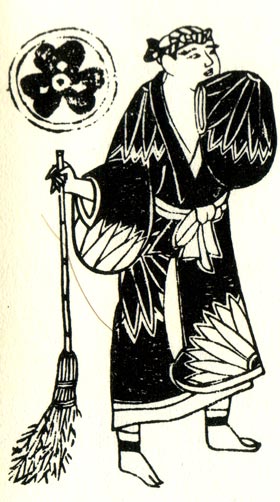 Kokon Shinzaemon