5 shows in T˘ky˘ (Kabukiza, Shinbashi Enbuj˘) 2 on Shikoku island (Kanamaruza)!
Ichikawa Danjűr˘, Onoe Kikugor˘, Band˘ Tamasabur˘, Kataoka Nizaemon, Sakata T˘jűr˘, Nakamura Shikan, Nakamura Tomijűr˘, Nakamura Kichiemon, Band˘ Mitsugor˘, Nakamura Kanzabur˘, Matsumoto K˘shir˘, Nakamura Tokiz˘, Nakamura Shibajaku, Nakamura Hashinosuke, Nakamura Baigyoku, Nakamura Kaishun and Onoe Kikunosuke perform at the Kabukiza!
Lots of young talented actors at the Kanamaruza!
The Omodakaya guild performs at the Shinbashi Enbuj˘!
| | |
| --- | --- |
| Kabukiza (T˘ky˘) | |
Dates
2 ~ 28 April 2010 (Onagori Shigatsu ďkabuki)
Kabukiza Sayonara K˘en
MatinÚe

Onagori Kobiki no Danmari

Ichi-no-Tani Futaba Gunki (Kumagai Jin'ya)

Afternoon

Sugawara Denju Tenarai Kagami (Terakoya)

Sannin Kichisa Tomoe no Shiranami

Evening
Casting

Ichikawa Danjűr˘, Onoe Kikugor˘, Band˘ Tamasabur˘, Kataoka Nizaemon, Sakata T˘jűr˘, Nakamura Shikan, Nakamura Tomijűr˘, Nakamura Kichiemon, Band˘ Mitsugor˘, Nakamura Kanzabur˘, Matsumoto K˘shir˘, Nakamura Tokiz˘, Nakamura Shibajaku, Nakamura Hashinosuke, Nakamura Baigyoku, Nakamura Kaishun, Onoe Kikunosuke, Nakamura Senjaku, Kataoka Takatar˘, Ichikawa Sadanji, Band˘ Hikosabur˘, Ichikawa Ebiz˘, Ichikawa Danshir˘, Onoe Sh˘roku, Nakamura Fukusuke, Nakamura Shid˘, Nakamura T˘z˘, Nakamura Kash˘, Ichimura Manjir˘, Ichikawa Somegor˘, Nakamura Shichinosuke, Nakamura Kantar˘, Nakamura Baishi

Comments

16th of the 16 Kabukiza Sayonara K˘en, the Kabukiza Farewell Performances ... the last programs before the destruction and the rebuilding of the Temple of Kabuki:

Source: Earphone Guide website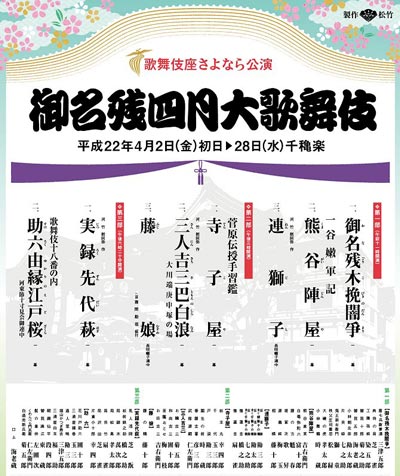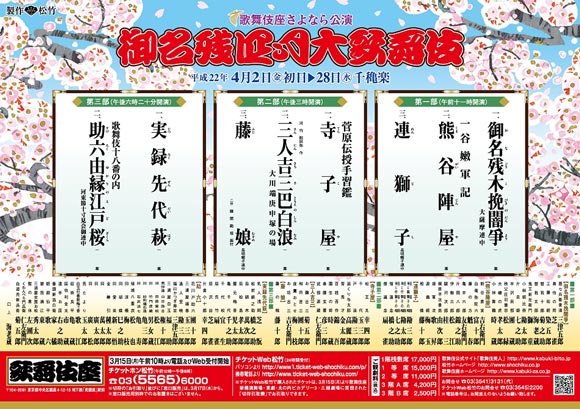 | | |
| --- | --- |
| Kabukiza (T˘ky˘) | |
Dates
30 April 2010 (Kabukiza Heij˘shiki)
Kabukiza closing Ceremony
Program

Goaisatsu

Miyako Fűryű

Kabukiza Tejimeshiki

Casting

Ichikawa Danjűr˘, Onoe Kikugor˘, Sakata T˘jűr˘, Kataoka Nizaemon, Nakamura Tomijűr˘, Band˘ Tamasabur˘, Nakamura Shikan, Nakamura Kichiemon, Matsumoto K˘shir˘, Nakamura Kanzabur˘, Band˘ Mitsugor˘, Nakamura Baigyoku, Nakamura Tokiz˘, Nakamura Shibajaku, Nakamura Kaishun, Nakamura Fukusuke

Comments

Sources: Nihon Buy˘ ("Miyako Fűryű") and Earphone Guide ("Musume D˘j˘ji")
| | |
| --- | --- |
| Kanamaruza (Konpira) | |
| | |
| --- | --- |
| Shinbashi Enbuj˘ (T˘ky˘) | |
Dates
1 ~ 23 April 2010 (Y˘shun Hanagata Kabuki)
Program

Kanadehon Futae Z˘shi

Casting

Ichikawa Ukon, Ichikawa Danjir˘, Ichikawa Emisabur˘, Ichikawa Emiya, Ichikawa Monnosuke, Band˘ Yajűr˘, Ichikawa En'ya, Ichikawa Shun'en, Ichikawa Juen, Ichikawa K˘tar˘

Comments

Kanadehon Futae Z˘shi: a combination of Kabuki's greatest classic of loyalty with a ghost play that is Kabuki's greatest classic of disloyalty. When "Kanadehon Chűshingura" (The Treasury of Loyal Retainers) first appeared in 1748 it was a tremendous hit because it dramatized a historical incident in 1703 that showed that feudal values were still alive. A samurai lord suddenly attacked a senior advisor to the Sh˘gun inside the Sh˘gun's palace and was punished by being forced to commit ritual suicide. After great hardship, forty-seven of his loyal retainers banded together to avenge their lord's death by attacking his enemy. But by 1825 when "Yotsuya Kaidan" first appeared, the world was a great deal more cynical about all the samurai values. "Yotsuya Kaidan" was actually performed together with "Kanadehon Chűshingura" and its characters are disloyal members of the clan. It is also the story of Iemon (Ichikawa Danjir˘), a former member of the clan who is in love with Oiwa (Ichikawa Emisabur˘), also a former member of the clan. But her father takes her away when he knows that lemon has stolen money from the clan. Iemon kills her father and then promises her to help her avenge her father's death. They live together in poverty, but at this point, the Oume, the granddaughter of a wealthy doctor who belongs to the enemy clan, falls in love with him. To get Iemon, the doctor gives Oiwa a poison that disfigures her horribly. Iemon decides to betray Oiwa and she becomes a vengeful ghost. Ennosuke has combined these two classics with his customary spectacle and speed with his trademark flight through the air as well. Ennosuke is not part of the cast but he has supervised the production, which stars Ichikawa Ukon in the roles of the ghost of Nitta Yoshisada, Naosuke Gonbŕ and Amakawaya Gihei. Featuring also Ichikawa Monnosuke in the roles of Akatsuki Hoshigor˘ (in reality Kiryűmaru), Sat˘ Yomoshichi and Gihei's wife Osono.

Source: Earphone Guide website