Stage names:
| | |
| --- | --- |
| Ichikawa Shinnosuke V | |
| Ichikawa Kobunji II | |
| Ichikawa Kowaka | |
| Ichikawa Momomaru | |
Real name: Horikoshi Ryűkichi
Guild: Naritaya
Line number: GODAIME (V)
Poetry name: Jush˘
Existence: 23 May 1885 ~ 13 January 1957
Connections:
Master: Ichikawa Kodanji V
Wife: Ichikawa Danjűr˘ IX's daughter Ichikawa Kyokubai II
Daughter: Ichikawa Suisen III
Disciple: Ichikawa Masunoj˘ II
Career:
1885 ~ 1908: born in T˘ky˘. He started his career as a disciple of Ichikawa Kodanji V, receiving the names of Ichikawa Momomaru and Ichikawa Kowaka at unknown dates.
November 1908: he became nadai and took the name of Ichikawa Kobunji II at the Fukagawaza.
February 1913: wedding with Ichikawa Kyokubai II, daughter of late Ichikawa Danjűr˘ IX.
May 1913: Ichikawa Kobunji II took the name of Ichikawa Shinnosuke V at the Imperial Theater, playing the role of Ariwara no Narihira in the dance "Rokkasen".
April 1937: revival at the Kabukiza of the drama "Fud˘", a play belonging to the Kabuki Jűhachiban; Shinnosuke played the role of Hayakumo Tokikaze [more details].
June 1956: Shinnosuke played at the Kabukiza the role of Hachirobŕ's mother Okiku in the drama "Unagidani"; the roles of Hachirobŕ and Otsuma were played by Ichikawa Ebiz˘ IX and Onoe Baik˘ VII.
July 1956: Shinnosuke appeared on stage for the last time, in T˘ky˘ at the Meijiza, where he played the role of Izuya Kihŕ in the drama "Kirare Yosa".
13 January 1957: Shinnosuke died.
Comments:
Ichikawa Shinnosuke V was a handsome and popular actor, who had a great presence on stage. He spent his career in both koshibai (he was the leading tachiyaku actor of the Kotobukiza) and ˘shibai (in his latter years). He performed only in T˘ky˘ up to 1949 and he divided his time between T˘ky˘ and the Kansai theaters from 1949 to 1955. One of his best roles was ďishi Kuranosuke in the drama "Goban Taiheiki".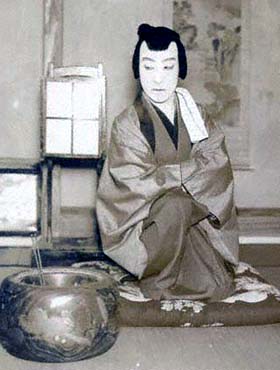 Ichikawa Shinnosuke V portraying Kataoka Naojir˘ in the drama "Naozamurai"