Stage names:
| | |
| --- | --- |
| Nakamura Sennoj˘ II | |
| Band˘ Hinoki | |
Real name: Takase Miki
Guild: Narikomaya
Birthday: 30 July 1962
Connections:
Master: Sakata T˘jűr˘
Grandfather: Band˘ Ch˘emon
Career:
December 1972: he makes his first appearance on stage at the Shinbashi Enbuj˘, playing a decchi role in the drama "Sakanaya S˘gor˘" which is staged by the Zenshinza troupe.
December 1980: he receives the name of Band˘ Hinoki at the Kabukiza, performing in the dance "Yuki Matsuri Gonin Sanbas˘" and the drama "Ohama Goten Tsunatoyo-ky˘", which are staged at the Kabukiza to celebrate the 50th anniversary of the Zenshinza troupe.
March 1984: he becomes disciple of Nakamura Senjaku II.
June 1985: he receives the name of Nakamura Sennoj˘ II.
January 1995: Sennoj˘ becomes nadai and celebrates the event at the Nakaza, playing the roles of the koshimoto Sarashina and the teashop waitress Osato in "Komochi Yamanba" and "Sonezaki Shinjű"; this is part of a special program celebrating the shűmei of both Nakamura Kanjaku V and Nakamura Senjaku III, the hatsubutai of Nakamura Kazutar˘ and the 100th anniversary of the Sh˘chiku Company.
June 2005: Chikamatsuza tour in the USA with Nakamura Ganjir˘, Nakamura Kanjaku and Nakamura Kikaku. The program is made up of the dance "B˘ Shibari" and Chikamatsu Monzaemon's masterpiece "Sonezaki Shinjű"; Sennoj˘ plays the role of the teashop waitress Okuni in "Sonezaki Shinjű" [more details].
Comments:
Nakamura Sennoj˘ II is a talented supporting onnagata actor of the Narikomaya guild.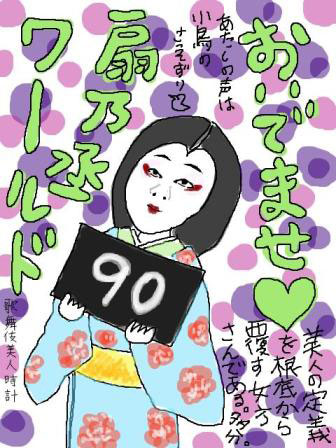 Nakamura Sennoj˘ II
Courtesy of DANGO JIR█ HYPER
This image was part of an amazing 2010 web project, which was entitled Kabuki Bijin Tokei (The Kabuki Beautiful People Clock), a special countdown with original pictures of Kabuki actors, one picture per day up to the closing of the Kabukiza (video on youtube)
Nakamura Sennoj˘ II was Number 90 in this countdown (online the 31st of January 2010, 90 days to go before the closing of T˘ky˘'s most famous theater)