Play title
T˘ryű Oguri Hangan
Oguri Hangan Kuruma Kaid˘
Haru no Koma Oguri Gaiden
Authors
Chikamatsu Monzaemon ("T˘ryű Oguri Hangan")
Matsuda Bunk˘d˘ / Takeda Izumo I ("Oguri Hangan Kuruma Kaid˘")
Katsu Genz˘ III ("Haru no Koma Oguri Gaiden")
History

Oguri Hangan Daisukeshige (1398~1464) was the son of a provincial lord who had been dispossessed of his estates by the Ashikaga clan. He led an extremely adventurous life when young, but eventually settled down and led a quiet life. He was famous for his horsemanship and was reputed to be able to make a horse stand with all four hooves on a goban. A legend was born, related to Hangan's real adventures. This legend has all the elements of great myth and is one of the great classics of sekky˘-bushi, narrative singing telling Buddhist stories of miracles and tragedies. In the original legend, Oguri was born to an aristocratic family in Ky˘to, only to be driven from his home. He wandered through the country, finally ending up at the mansion of a man named Daizen in Hitachi, one of the distant provinces in the east. Daizen's daughter Terute fell in love with Oguri, but Daizen first tries to kill him with a wild horse, then with poisoned wine. In the end, he ends up horribly deformed and half-dead, already almost part of the world beyond. But people faithfully believing in a miracle and believing that pulling this cart will bring them great merit pull him on a cart. Finally, he reaches a waterfall in the sacred land of Kumano and is restored to life. Oguri Hangan and his betrothed Princess Terute became the heroes of many Kabuki or puppet theater dramas. Here is a short list of the most famous ones:

Ichikawa Ennosuke produced his own version of "Oguri Hangan", mixing elements from Chikamatsu Monzaemon's "T˘ryű Oguri Hangan", Matsuda Bunk˘d˘'s "Oguri Hangan Kuruma Kaid˘" and Katsu Genz˘ III's "Haru no Koma Oguri Gaiden", using as a title "T˘ryű Oguri Hangan". It was staged for the first time in July 1983 at the Kabukiza, with Ichikawa Ennosuke in the roles of Oguri Hangan and Namishichi. the reading of the title is the same as Chikamatsu Monzaemon's drama but there is one slight difference (one extra ideogram) in Ichikawa Ennosuke's drama:

You need a Japanese Language Kit installed within your system in order to be able to read the characters

Key words
Ennosuke Jűhachiban
Ennosuke Shijűhassen
Fukkatsu T˘shi Ky˘gen Jűhachiban
Jidaimono
Oguri-hanganmono
Sekky˘-bushi
Seppuku
Summary

The hero Oguri sets out to find out the true story behind the suspicious suicide of the father of his fiancee, Princess Terute, and to find stolen family heirlooms. His enemies intend to use against him his pride in his horse-handling skills by getting him to try and tame a savage, man-eating horse. They expect him to be killed in the attempt, but instead he completely masters the horse and has it stand on its rear legs on a go board, before making his escape.

The fisherman Namishichi, who is Oguri's former retainer, hides Princess Terute in his house, but she is abducted by his corrupt brother-in-law. He follows in pursuit but cannot stop the princess being taken away by boat. He decides to forfeit his life in return for the safety of the princess and commits seppuku by the sea. A river of blood flows from Namishichi's belly. The dragon gods hear his plea and the winds blow the princess's boat back to shore. Namishichi and his brother-in-law come to final blows, and the last we see of Namishichi is his lifeless body spread-eagled upside down on the side of a cliff.

In pursuit of his fiancee and family heirlooms, Oguri has made his way to a manor house in the countryside where he has promised to marry the daughter in return for getting the heirlooms. But Princess Terute has been washed ashore nearby and has obtained work as a maid in the house. She and Oguri are reunited, and Oguri breaks off the engagement with the daughter. However, she is besotted with Oguri and refuses to give him up despite her mother's strenuous pleading. When the daughter seeks to murder Terute, the mother sees she has no alternative but to kill her own daughter. Yet, even after the murder, the daughter's ghost returns to bring revenge, and Oguri is afflicted with lameness and horrible facial scarring. Terute takes Oguri on a cart to a shrine on Kumano where the local saint is able to produce Oguri's healing. The horse painting on the shrine wall comes to life and Oguri and Terute fly off (over the heads of the audience) to confront their enemies and restore their fortunes.

Courtesy of Jean Wilson (1997)

Trivia

It is a custom for actors about to perform in an oguri-hanganmono to go to pray in front of the tombstone of Oguri Hangan, which is located in the precincts of a temple in the city of Fujisawa (Kanagawa prefecture).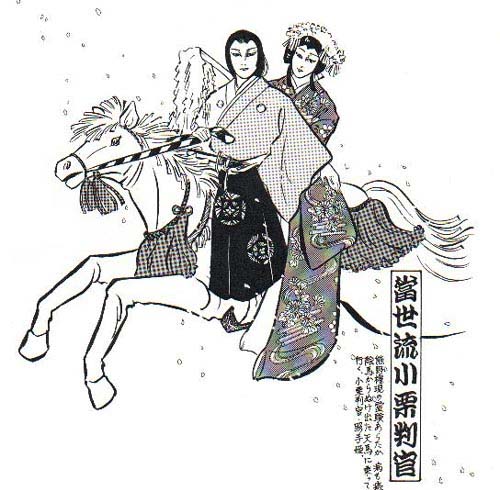 Oguri Hangan and Princess Terute flying over the audience
Illustration courtesy of Fujiki Yuriko