Stage names:
| | |
| --- | --- |
| Ichimura Hikaru | |
Real name: Ichimura Hikaru
Guild: Tachibanaya
Birthday: 10 April 1994
Connections:
Great-great-great-great-grandfathers: Onoe Kikugor˘ III, Ichimura Uzaemon XI
Great-great-great-grandfather: Ichimura Takenoj˘ V
Great-great-grandfather: Onoe Kikugor˘ V
Great-grandfather: Band˘ Hikosabur˘ VI
Grandfather: Ichimura Uzaemon XVII
Father: Ichimura Manjir˘ II
Brother: Ichimura Takematsu VI
Career:
May 1999: debut on stage (hatsubutai) at the Kabukiza, where he receives the name of Ichimura Hikaru (his real name) and performs in the dance-drama "Tsuchi Gumo".
May 2007: the Kabukiza celebrates the 6th anniversary (7th memorial service) of the death of Hikaru's grandfather Ichimura Uzaemon XVII with the drama "Onna Shibaraku"; Hikaru plays the role of Tezuka Tar˘ in this drama.
Comments:
Ichimura Hikaru is a promising young actor of the Tachibanaya guild.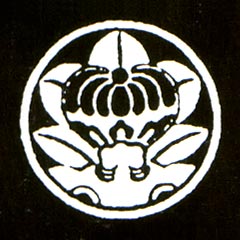 The mon of Ichimura Hikaru