Stage names:
| | |
| --- | --- |
| Matsumoto Kintarô IV | |
Real name: Fujima Itsuki
Guild: Kôraiya
Line number: YODAIME (IV)
Birthday: 27 March 2005
Connections:
Great-great-grandfather: Matsumoto Kôshirô VII
Great-grandfather: Matsumoto Hakuô
Grandfather: Matsumoto Kôshirô IX
Father: Ichikawa Somegorô VII
Career:
June 2007: first stage appearance (omemie), at the Kabukiza where he plays the role of Kôraiya Saikichi in the drama "Kyôkaku Harusame Gasa".
June 2009: debut on stage (hatsubutai) at the Kabukiza, where he receives the name of Matsumoto Kintarô IV and plays the role of a shishi cub in the dance-drama "Kadonde Iô Kotobuki Renjishi".
Comments:
Matsumoto Kintarô IV is the young heir of the Kôraiya guild. He will take the name of Ichikawa Somegorô VIII in January and February 2018 at the Kabukiza. His grandfather and his father will become Matsumoto Hakuô II and Matsumoto Kôshirô X.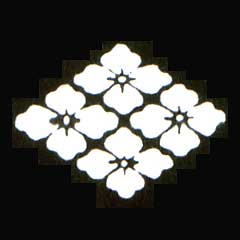 The mon of Matsumoto Kintarô IV