Dance title
Odoke Niwaka Shabon no Tamatori
Authors
Sakurada Jisuke III (lyrics)
Kiyomoto Saibê I (music)
History

The actor Nakamura Shikan II performed in the 7th lunar month of 1832 at the Nakamuraza a 4-role season-related Kiyomoto/Nagauta hengemono, which was entitled "Odoke Niwaka Shabon no Tamatori". The last of these roles, a soap-bubbles peddler symbolizing summer, survived and became the dance "Tamaya".

Key words
Shosagoto
Kiyomoto
Tamaya
Summary

This is a summer afternoon in Edo streets. A tamaya, a soap-bubbles peddler, calls children to gather around her. She blows his bubbles for the children then dances cheerfully, using her fan and her umbrella, with the soap bubbles drifting in the air. She also uses a toy butterfly to mimic the gestures of a butterfly peddler. After dancing to humorous tunes, the tamaya moves on to a different district.

This summary would have not been possible without the help of Sekidobashi Sakura!

Trivia

This dance is 23-minute long.

The peddler is either a man or a woman depending on the actor being a tachiyaku or an onnagata.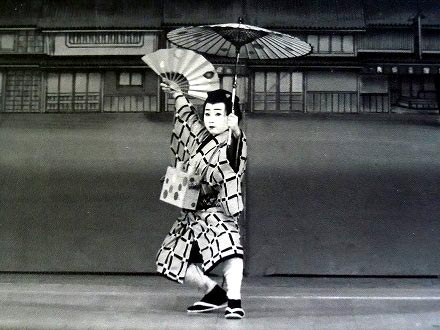 A young dancer performing "Tamaya"