Stage names:
| | |
| --- | --- |
| Matsumoto K˘jaku II | |
| Nakamura Shijaku II | |
| Nakamura Matashir˘ | |
Real name: Sat˘ Mitsuru
Line number: NIDAIME (II)
Birthday: 24 March 1945
Connections:
Masters: Matsumoto Haku˘ II (Matsumoto K˘shir˘ IX), Nakamura Matagor˘ II
Career:
March 1972: he graduated from the Actors Training Center of the National Theatre (first graduation) [1].
April 1972: he made his first appearance on stage at the National Theatre, performing the role of a soldier in the drama "Ichi-no-Tani Futaba Gunki".
June 1973: he became disciple of Nakamura Matagor˘ II and received the name of Nakamura Matashir˘,
April/May 1983: He took part in the Kabuki tour in Los Angeles, Caracas, Lima and Mexico City.
April 1981: Matashir˘ passed the nadai exam.
August 1984: he became nadai and took the name of Nakamura Shijaku II at the T˘ky˘ Takarazuka Gekij˘, where he performed in the dance-drama "Yoshiwara Suzume".
September/October 1991: Shijaku took part in the U.K. Kabuki tour.
21 February 2009: his master Nakamura Matagor˘ II died.
June 2011: he joined the Matsumoto clan and took the name of Matsumoto K˘jaku II at the Shinbashi Enbuj˘, performing in "Yoritomo no Shi".
Comments:
Matsumoto K˘jaku II is a talented supporting onnagata actor of the K˘raiya guild.
[1] The actors Nakamura Kannoj˘ III and Nakamura Kichisabur˘ also graduated at the same time.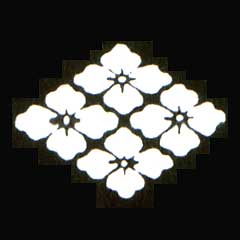 The mon of Matsumoto K˘jaku II
The Matsumoto K˘jaku line of actors