Stage names:
| | |
| --- | --- |
| Nakayama Kiyonosuke | |
Existence: ??? ~ 1692
Connection:
Master (?): Band˘ Matazaemon I
Career:
Tenna era: he made his apprenticeship in Edo with the actor Band˘ Matazaemon I.
5th lunar month of 1684: Kiyonosuke played at the Nakamuraza the role of the courtesan Katsuragi in Mimasuya Hy˘go's drama "Fuwa Sokushin no Ikazuchi". His stage partners are Katsuyama Hikoshir˘ (Nagoya Sanza) and Ichikawa Danjűr˘ I (Fuwa Banzaemon).
1687: Kiyonosuke performed at the yashiki of the daimy˘ M˘ri.
1688: Kiyonosuke performed at the Ichimuraza. He was said around that time to be one of the Yakusha Shitenn˘, literally the Big Four Actors [1].
1692: Kiyonosuke passed away in Edo.
Comments:
Nakayama Kiyonosuke was an Edo onnagata actor, who was active from the beginning of the J˘ky˘ era to the beginning of the Genroku era. He had a great and refreshing k˘seki and was an outstanding dancer.
[1] There were not four actors in the 1688 Big Four but ... nine actors : beside Nakayama Kiyonosuke, the others were Nakamura Shichisabur˘ I, It˘ Kodayű II, Nakayama Sayonosuke, Noda Kuranoj˘, Matsumura Gennosuke, Murayama Heijűr˘ I, Fujita Shosabur˘ and Saigoku Hy˘gor˘ I.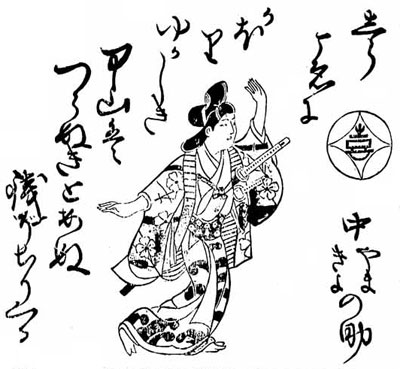 Nakayama Kiyonosuke in an ilustration from the book
"Kokon Shibai Irokurabe Hyakunin Isshu" (1st lunar month of 1693)