Stage names:
| | |
| --- | --- |
| Jitsukawa Yaoz˘ I | |
| Jitsukawa Ennosuke I | |
| Onoe Sanch˘ | |
| Jitsukawa Enjo | |
Real name: Jitsukawa Yaoz˘
Guild: Izutsuya
Line number: SHODAI (I)
Poetry name: Enkaku
Existence: 1838 ~ 6 February 1892
Connections:
Masters: Jitsukawa Gakujűr˘ II, Onoe Tamiz˘ II
Adopted son: Jitsukawa Yaoz˘ II
Disciples: Jitsukawa Momonosuke, Jitsukawa Yaoe, Jitsukawa Ichiz˘
Family map: the Jitsukawa Clan
Career:
1847: he starts his career as a disciple of Jitsukawa Enzabur˘ I, who gives him the name of Jitsukawa Enjo. Later on, at the end of the K˘ka era, he takes the name of Jitsukawa Ennosuke I.
1854: he becomes disciple of the actor Onoe Tamiz˘ II and receives the name of Onoe Sanch˘ I.
1856: he joins back the Jitsukawa clan and takes back the name of Jitsukawa Ennosuke I.
1863: Jitsukawa Ennosuke I takes the name of Jitsukawa Yaoz˘ I at the Naka no Shibai.
1879: Yaoz˘ becomes zagashira at the Kadoza (ďsaka).
1885 ~ 1890: Yaoz˘ settles in T˘ky˘; he performs mainly at the Harukiza.
February 1890: Yaoz˘ goes back to ďsaka with Nakamura Tokiz˘ I and Band˘ Shűka II.
February 1892: Yaoz˘ appears on stage for the last time, in ďsaka at the Asahiza. He suddenly falls ill and quickly dies.
Comments:
Jitsukawa Yaoz˘ I was a talented Kamigata actor, able to play a wide range of roles as a katakiyaku, wagotoshi, onnagata or fukeyaku.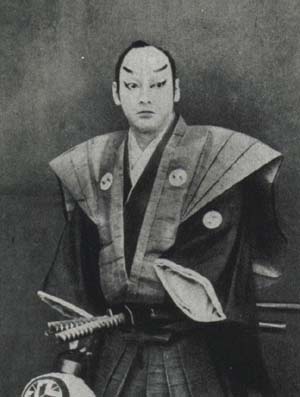 Jitsukawa Yaoz˘ I playing the role of Yuranosuke in the drama "Kanadehon Chűshingura"
The Jitsukawa Yaoz˘ line of actors