Stage name:
| | |
| --- | --- |
| Kaneko Rokuemon | |
Existence: ???
Connection:
Master: Fukui Yagozaemon
Disciples: Kaneko Kichizaemon, Tominaga Heibŕ, Kanazawa Goheiji
Career:
1664: Rokuemon performed in the first play divided into several acts of Kabuki history, which was staged in ďsaka. The author of the drama was his master Fukui Yagozaemon and the title was "Hinin no Adauchi". It narrated the tribulations of a young man who had to disguise himself as a beggar in order to look for the murderer of his father. Rokuemon's others stage partners were Araki Yojibŕ I and Nakagawa Kinnoj˘.
6th lunar month of 1674: Rokuemon performed as a tachiyaku in Ky˘to at Ebisuya's theater; his stage partners were Fujita Koheiji, Komai Sh˘zaemon, Imamura Kumenosuke, Fujita Minanoj˘, Nanboku Sabu I, Nakajima Yaheita, It˘ Kodayű II, Tamagawa San'ya, Dekijima Tanomo and Kumamoto Bun'emon.
1682: Rokuemon became zamoto in ďsaka.
Comments:
Kaneko Rokuemon was active in Kamigata from the beginning of the 1660s to the beginning of the 1680s. He was a tachiyaku, excelling in teoigoto. He also worked in ďsaka as a zamoto.
"Rokuemon said, "Playing a teoi part is not only a matter of leaning on one's sword, gasping for breath and acting as if one were in great pain. If he thinks that his enemy is still in the vicinity, he must be very tense, directing his eyes all around, but at the same time appear to be severely wounded and indicate by his posture that he is suffering. Again, if he thinks that his enemy has fled, he should show that then, and not until then, his wound becomes painful. If men from his own side should run up and attend to his hurts, he should speak swords of strength, but at the same time show that within himself his spirit is failing and he is growing weak. Again, even should he lean on his sword when walking after receiving his wounds, to take short steps and bring forward his sword to lean on at each step is an ugly sight. If he uses the sword in this way, he should take two or three steps, then bring his sword forward two or three paces from where his feet are and put it to the ground, then walk forward to a point two or three paces forward from where his sword now is; then, bring his sword forward two or three paces in front, as before. The length of the sword, including the hilt, should be about breast-high. If it is shorter than that, one has to bend over to walk with it, and this does not look good." His analysis is surely accurate! At that time he attracted large audiences with his performances as a wounded warrior." (from Kaneko Ikk˘'s "Dust in the Ears", translated by Charles J. Dunn and Torigoe Bunz˘ in "The Actors' Analects")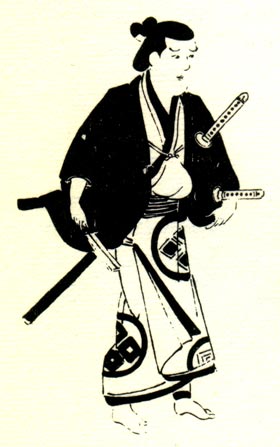 Kaneko Rokuemon