Real name: Miura Kôtarô
Guild: Omodakaya
Birthday: 29 June 1983
Connections:
Master: Ichikawa En'ô II (Ichikawa Ennosuke III)
Career:
August 1993: debut on stage (hatsubutai) at the National Theatre, where he plays the role of the sword-holder boy in the dance-drama "Kanjinchô", which is staged for the 1st edition of the Ukon no Kai (an association supporting the young Omodakaya actor Ichikawa Ukon).
July 1995: he becomes heyago of the star Ichikawa Ennosuke III and receives the name of Ichikawa Kôtarô at the Kabukiza, where he plays the role of Hiyoshimaru in the drama "Ami Moyô Tôro no Kikukiri".
2007: graduation from the Keiô University.
Comments:
Ichikawa Kôtarô is a young and popular actor of the Omodakaya guild. He is a talented dancer.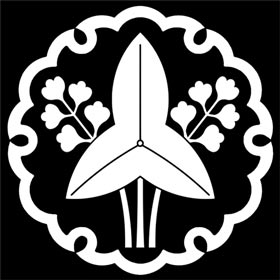 The mon of Ichikawa Kôtarô